Maintaining standards Trailer maintenance has OCRS and road safety implications. But what if the trailer doesn't belong to you?
23rd May 2013
Page 35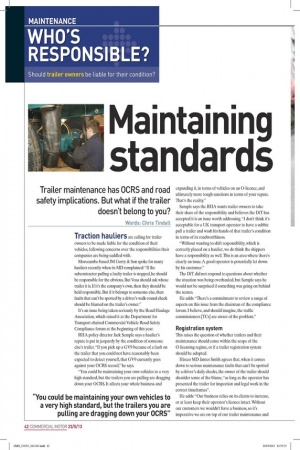 Page 36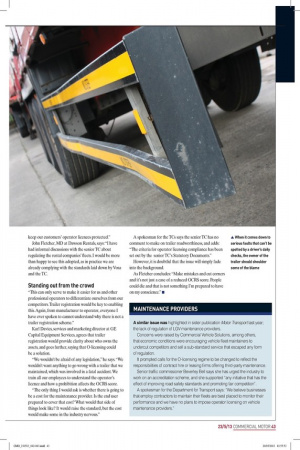 Page 35, 23rd May 2013 —
Maintaining standards Trailer maintenance has OCRS and road safety implications. But what if the trailer doesn't belong to you?
Close
Words: Chris Tindall Traction hauliers are calling for trailer owners to be made liable for the condition of their vehicles, following concerns over the responsibilities their companies are being saddled with.
Morecambe-based JIM Gorry & Son spoke for many hauliers recently when its MD complained: "If the subcontractor pulling a faulty trailer is stopped, he should be responsible for the obvious. But Vosa should ask whose trailer it is. If it's the company's own, then they should be held responsible. But if it belongs to someone else, then faults that can't be spotted by a driver's walk-round check should be blamed on the trailer's owner."
It's an issue being taken seriously by the Road Haulage Association, which raised it at the Department for Transport-chaired Commercial Vehicle Road Safety Compliance forum at the beginning of this year.
RHA policy director Jack Semple says a haulier's repute is put in jeopardy by the condition of someone else's trailer. "If you pick up a GV9 because of a fault on the trailer that you could not have reasonably been expected to detect yourself, that GV9 currently goes against your OCRS record," he says.
"You could be maintaining your own vehicles to a very high standard, but the trailers you are pulling are dragging down your OCRS. It affects your whole business and expanding it, in terms of vehicles on an 0-licence, and ultimately more tough sanctions in terms of your repute. That's the reality."
Semple says the RHA wants trailer owners to take their share of the responsibility and believes the DfT has accepted it is an issue worth addressing. "I don't think it's acceptable for a UK transport operator to have a subbie pull a trailer and wash his hands of that trailer's condition in terms of its roadworthiness.
"Without wanting to shift responsibility, which is correctly placed on a haulier, we do think the shippers have a responsibility as well. This is an area where there's clearly an issue. A good operator is potentially let down by his customer."
The DfT did not respond to questions about whether the situation was being overhauled, but Semple says he would not be surprised if something was going on behind the scenes.
He adds: "There's a commitment to review a range of aspects on this issue from the chairman of the compliance forum. I believe, and should imagine, the traffic commissioners [TCs] are aware of the problem."
Registration system This raises the question of whether trailers and their maintenance should come within the scope of the 0-licensing regime, or if a trailer registration system should be adopted.
Hireco MD James Smith agrees that, when it comes down to serious maintenance faults that can't be spotted by a driver's daily checks, the owner of the trailer should shoulder some of the blame, "as long as the operator has presented the trailer for inspection and legal work in the correct timeframes".
He adds: "Our business relies on its clients to increase, or at least keep their operator's licence intact. Without our customers we wouldn't have a business, so it's imperative we are on top of our trailer maintenance and keep our customers' operator licences protected."
John Fletcher, MD at Dawson Rentals, says: "I have had informal discussions with the senior TC about regulating the rental companies' fleets. I would be more than happy to see this adopted, as in practice we are already complying with the standards laid down by Vosa and the TC.
Standing out from the crowd "This can only serve to make it easier for us and other professional operators to differentiate ourselves from our competitors. Trailer registration would be key to enabling this. Again, from manufacturer to operator, everyone I have ever spoken to cannot understand why there is not a trailer registration scheme."
Karl Davies, services and marketing director at GE Capital Equipment Services, agrees that trailer registration would provide clarity about who owns the assets, and goes further, saying that 0-licensing could be a solution.
"We wouldn't be afraid of any legislation," he says. "We wouldn't want anything to go wrong with a trailer that we maintained, which was involved in a fatal accident. We train all our employees to understand the operator's licence and how a prohibition affects the OCRS score.
"The only thing I would ask is whether there is going to be a cost for the maintenance provider. Is the end user prepared to cover that cost? What would that side of things look like? It would raise the standard, but the cost would make some in the industry nervous." A spokesman for the TCs says the senior TC has no A When it comes down to comment to make on trailer roadworthiness, and adds: serious faults that can't be "The criteria for operator licensing compliance has been spotted by a driver's daily set out by the senior TC's Statutory Documents." checks, the owner of the However, it is doubtful that the issue will simply fade trailer should shoulder into the background. some of the blame As Fletcher concludes: "Make mistakes and cut comers and it's not just a case of a reduced OCRS score. People could die and that is not something I'm prepared to have on my conscience." • MAINTENANCE PROVIDERS A similar issue was highlighted in sister publication Motor Transport last year; the lack of regulation of LGV maintenance providers.
Concerns were raised by Commercial Vehicle Solutions, among others, that economic conditions were encouraging vehicle fleet maintainers to undercut competitors and sell a sub-standard service that escaped any form of regulation.
It prompted calls for the 0-licensing regime to be changed to reflect the responsibilities of contract hire or leasing firms offering third-party maintenance.
Senior traffic commissioner Beverley Bell says she has urged the industry to work on an accreditation scheme, and she supported "any initiative that has the effect of improving road safety standards and promoting fair competition".
A spokesman for the Department for Transport says: "We believe businesses that employ contractors to maintain their fleets are best placed to monitor their performance and we have no plans to impose operator licensing on vehicle maintenance providers."