going Su ccessfu I lv __, navigating the maze of
23rd May 2013
Page 22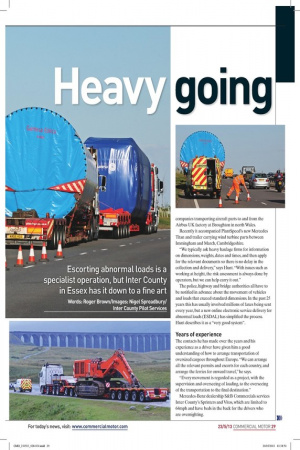 Page 21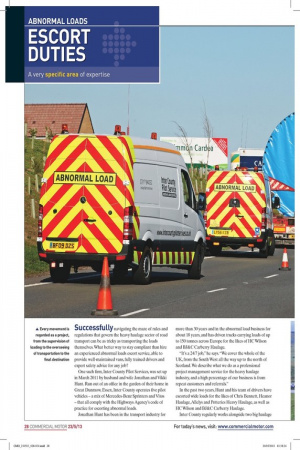 Page 23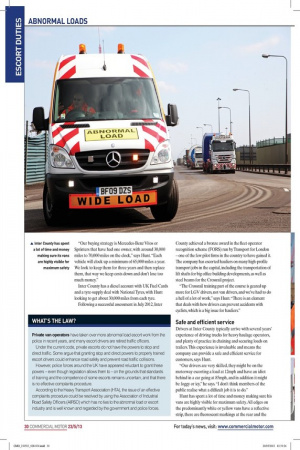 Page 24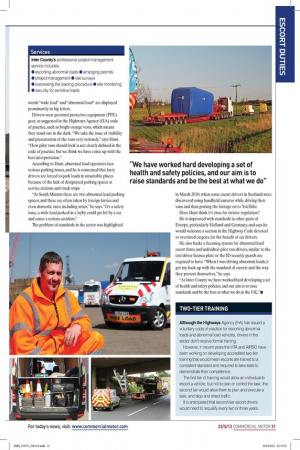 Page 22, 23rd May 2013 —
going Su ccessfu I lv __, navigating the maze of
Close
rules and regulations that govern the heavy haulage sector of road transport can be as tricky as transporting the loads themselves. What better way to stay compliant than hire an experienced abnormal loads escort service, able to provide well-maintained vans, fully trained drivers and expert safety advice for any job?
One such firm, Inter County Pilot Services, was set up in March 2011 by husband and wife Jonathan and Vikki Hunt. Run out of an office in the garden of their home in Great Dunmow, Essex, Inter County operates five pilot vehicles — a mix of Mercedes-Benz Sprinters and Vitos — that all comply with the Highways Agency's code of practice for escorting abnormal loads.
Jonathan Hunt has been in the transport industry for more than 30 years and in the abnormal load business for about 18 years, and has driven trucks carrying loads of up to 150 tonnes across Europe for the likes of HC Wilson and BJ&C Carberry Haulage.
"It's a 24/7 job," he says. "We cover the whole of the UK, from the South West all the way up to the north of Scotland. We describe what we do as a professional project management service for the heavy haulage industry, and a high percentage of our business is from repeat customers and referrals."
In the past two years, Hunt and his team of drivers have escorted wide loads for the likes of Chris Bennett, Heanor Haulage, Allelys and Potteries Heavy Haulage, as well as HC Wilson and BJ&C Carberry Haulage.
Inter County regularly works alongside two big haulage companies transporting aircraft parts to and from the Airbus UK factory at Broughton in north Wales.
Recently it accompanied PlantSpeed's new Mercedes Titan and trailer carrying wind turbine parts between Immingham and March, Cambridgeshire.
"We typically ask heavy haulage firms for information on dimensions, weights, dates and times, and then apply for the relevant documents so there is no delay in the collection and delivery," says Hunt. "With issues such as working at height, the risk assessment is always done by operators, but we can help carry it out."
The police, highway and bridge authorities all have to be notified in advance about the movement of vehicles and loads that exceed standard dimensions. In the past 25 years this has usually involved millions of faxes being sent every year, but a new online electronic service delivery for abnormal loads (ESDAL) has simplified the process. Hunt describes it as a "very good system".
Years of experience The contacts he has made over the years and his experience as a driver have given him a good understanding of how to arrange transportation of oversized cargoes throughout Europe. "We can arrange all the relevant permits and escorts for each country, and arrange the ferries for onward travel," he says.
"Every movement is regarded as a project, with the supervision and overseeing of loading, to the overseeing of the transportation to the final destination."
Mercedes-Benz dealership S&B Commercials services Inter County's Sprinters and Vitos, which are limited to 64mph and have beds in the back for the drivers who are overnighting. "Our buying strategy is Mercedes-Benz Vitos or Sprinters that have had one owner, with around 30,000 miles to 70,000 miles on the clock," says Hunt. "Each vehicle will clock up a minimum of 65,000 miles a year. We look to keep them for three years and then replace them, that way we keep costs down and don't lose too much money."
Inter County has a diesel account with UK Fuel Cards and a tyre-supply deal with National Tyres, with Hunt looking to get about 30,000 miles from each tyre.
Following a successful assessment in July 2012, Inter County achieved a bronze award in the fleet operator recognition scheme (FORS) run by Transport for London — one of the few pilot firms in the country to have gained it. The company has escorted hauliers on many high-profile transport jobs in the capital, including the transportation of lift shafts for big office building developments, as well as steel beams for the Crossrail project.
"The Crossrail training part of the course is geared up more for LGV drivers, not van drivers, and we've had to do a hell of a lot of work," says Hunt. "There is an element that deals with how drivers can prevent accidents with cyclists, which is a big issue for hauliers."
Safe and efficient service Drivers at Inter County typically arrive with several years' experience of driving trucks for heavy haulage operators, and plenty of practice in chaining and securing loads on trailers. This experience is invaluable and means the company can provide a safe and efficient service for customers, says Hunt.
"Our drivers are very skilled, they might be on the motorway escorting a load at 12mph and have an idiot behind in a car going at 85mph, and in addition it might be foggy or icy," he says. "I don't think members of the public realise what a difficult job it is to do."
Hunt has spent a lot of time and money making sure his vans are highly visible for maximum safety. All edges on the predominantly white or yellow vans have a reflective strip, there are fluorescent markings at the rear and the in March 2010, when some escort drivers in Scotland were discovered using handheld cameras while driving their vans and then posting the footage on to YouTube.
Does Hunt think it's time for stricter regulation?
He is impressed with standards in other parts of Europe, particularly Holland and Germany, and says he would welcome a section in the Highway Code devoted to oversized cargoes, for the benefit of car drivers.
He also backs a licensing system for abnormal load escort firms and individual pilot van drivers, similar to the taxi driver licence plate or the ID security guards are required to have. "When I was driving abnormal loads, it got my back up with the standard of escorts and the way they present themselves," he says.
"At Inter County we have worked hard developing a set of health and safety policies, and our aim is to raise standards and be the best at what we do in the UK." • WHAT'S THE LAW?
Private van operators have taken over more abnormal load escort work from the police in recent years, and many escort drivers are retired traffic officers.
Under the current code, private escorts do not have the powers to stop and direct traffic. Some argue that granting stop and direct powers to properly trained escort drivers could enhance road safety and prevent road traffic collisions.
However, police forces around the UK have appeared reluctant to grant these powers — even though legislation allows them to — on the grounds that standards of training and the competence of some escorts remains uncertain, and that there is no effective complaints procedure.
According to the Heavy Transport Association (HTA), the issue of an effective complaints procedure could be resolved by using the Association of Industrial Road Safety Officers (AIRSO) which has no ties to the abnormal load or escort industry and is well known and regarded by the government and police forces. Services IInter County's professional project management service includes: • escorting abnormal loads • arranging permits • project management • site surveys • overseeing the loading procedure • site monitoring • security for sensitive loads words "wide load" and "abnormal load" are displayed prominently in big letters.
Drivers wear personal protective equipment (PPE) gear, as suggested in the Highways Agency (HA) code of practice, such as bright orange vests, which means they stand out in the dark. "We take the issue of visibility and presentation of the vans very seriously," says Hunt. "How pilot vans should look is not clearly defined in the code of practice, but we think we have come up with the best interpretation."
According to Hunt, abnormal load operators face serious parking issues, and he is concerned that lorry drivers are forced to park loads in unsuitable places because of the lack of designated parking spaces at service stations and truck stops.
"At South Mimms there are two abnormal load parking spaces, and these are often taken by foreign lorries and even domestic ones, including artics," he says. "It's a safety issue, a wide load parked in a layby could get hit by a car and cause a serious accident."
The problem of standards in the sector was highlighted TWO-TIER TRAINING Although the Highways Agency (HA) has issued a voluntary code of practice for escorting abnormal loads and abnormal load vehicles, drivers in the sector don't receive formal training.
However, in recent years the HTA and AIRSO have been working on developing accredited two-tier training that would mean escorts are trained to a consistent standard and required to take tests to demonstrate their competence.
The first tier of training would allow an individual to escort a vehicle, but not to plan or control the task, the second tier would allow them to plan and execute a task, and stop and direct traffic.
It is anticipated that second-tier escort drivers would need to requalify every two or three years.