Are EU kidding me?
23rd May 2013
Page 2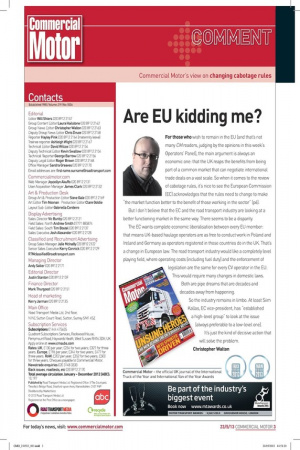 Page 2, 23rd May 2013 —
Are EU kidding me?
Close
For those who wish to remain in the EU (and that's not many CM readers, judging by the opinions in this week's Operators' Panel), the main argument is always an economic one: that the UK reaps the benefits from being part of a common market that can negotiate international trade deals on a vast scale. So when it comes to the review of cabotage rules, it's nice to see the European Commission (EC) acknowledges that the rules need to change to make -the market function better to the benefit of those working in the sector(p6).
But I don't believe that the EC and the road transport industry are looking at a better functioning market in the same way. There seems to be a disparity.
The EC wants complete economic liberalisation between every EU member: that means UK-based haulage operators are as free to conduct work in Poland and Ireland and Germany as operators registered in those countries do in the UK. That's a change in European law. The road transport industry would like a completely level playing field, where operating costs (including fuel duty) and the enforcement of legislation are the same for every CV operator in the EU. This would require many changes in domestic laws. Both are pipe dreams that are decades and decades away from happening.
So the industry remains in limbo. At least Siim Kailas, EC vice-president, has -established a high-level groupto look at the issue (always preferable to a low-level one).
It's just the kind of decisive action that will solve the problem.
Christopher Walton