Maintenance failings firm 'a risk to others' TC revokes licence
23rd May 2013
Page 12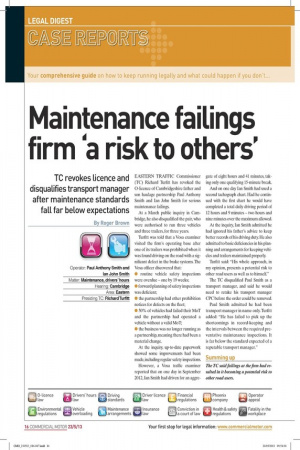 Page 12, 23rd May 2013 —
Maintenance failings firm 'a risk to others' TC revokes licence
Close
and disqualifies transport manager after maintenance standards fall far below expectations By Roger Brown EASTERN TRAFFIC Commissioner (TC) Richard Turfitt has revoked the 0-licence of Cambridgeshire father and son haulage partnership Paul Anthony Smith and Ian John Smith for serious maintenance failings.
At a March public inquiry in Cambridge, he also disqualified the pair, who were authorised to run three vehicles and three trailers, for three years.
Turfitt was told that a Vosa examiner visited the firm's operating base after one of its trailers was prohibited when it was found driving on the road with a significant defect in the brake systems. The Vosa officer discovered that: • routine vehicle safety inspections were overdue — one by 19 weeks; • forward planning of safety inspections was deficient; • the partnership had other prohibition notices for defects on the fleet; • 50% of vehicles had failed their MoT and the partnership had operated a vehicle without a valid MoT; • the business was no longer running as a partnership, meaning there had been a material change.
At the inquiry, up-to-date paperwork showed some improvements had been made, including regular safety inspections.
However, a Vosa traffic examiner reported that on one day in September 2012, Ian Smith had driven for an aggre gate of eight hours and 41 minutes, taking only one qualifying 15-minute break.
And on one day Ian Smith had used a second tachograph chart. Had he continued with the first chart he would have completed a total daily driving period of 12 hours and 9 minutes — two hours and nine minutes over the maximum allowed.
At the inquiry, Ian Smith admitted he had ignored his father's advice to keep better records of his driving duty. He also admitted to basic deficiencies in his planning and arrangements for keeping vehicles and trailers maintained properly.
Turfitt said: "His whole approach, in my opinion, presents a potential risk to other road users as well as to himself."
The TC disqualified Paul Smith as a transport manager, and said he would need to retake his transport manager CPC before the order could be removed.
Paul Smith admitted he had been transport manager in name only. Turfitt added: "He has failed to pick up the shortcomings in record-keeping and the intervals between the required preventative maintenance inspections. It is far below the standard expected of a reputable transport manager."
Summing up The TC said failings at the firm had resulted in it becoming a potential risk to other road users.