Exhibiting Oil in Comfort B ASED on a 'Commer Superpoise 2-ton
23rd May 1952
Page 53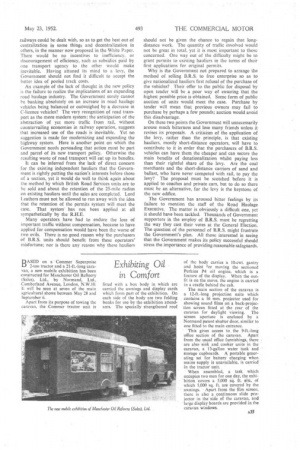 Page 53, 23rd May 1952 —
Exhibiting Oil in Comfort B ASED on a 'Commer Superpoise 2-ton
Close
tractor and a 21-ft.-long caravan, a new mobile exhibition has been constructed for Manchester Oil Refinery (Sales), Ltd., by Normand, Ltd., Cumberland Avenue, London, N.W.10. It will be seen at seven of the main agricultural shows between May 28 and September 6..
Apart from itspurpose of towing the caravan, the ,Commer tractor unit is
fitted with a box body in which are carried the awnings and display cards which form part of the exhibition. On each side of the body are two folding bunks for use by the exhibition attendants. The specially strengthened roof of the body carries a 10-cwt. gantry and hoist For moving the sectioned Perkins P4 oil engine, which is a feature of the display. When the out. fit is on the move, the engine is carried in a cradle behind the cab.
The main section of the caravan is a 12-ft.-lon8 projection suite which contains a 16 mm. projector used for showing sound films on a back-projection screen fitted at the rear of the caravan for daylight viewing.The screen aperture is enclosed by a Normand patent shutter door, similar to one fitted to the main entrance. This gives access to'. the 9-ft.-long office section • of the caravan. Apart front the usual office furnishings, there are also 'sink and cooker units in the caravan, a 13-gallon water tank and storage cupboards. A portable generating set for battery charging when, maids supply is unavailable, is carried' in the tractor unit.
When assembled, a task which occupies two men for one day, the exhi-bition 'covers a 5,000 sq. ft; site, of which 1,000 sq. ft. 'are covered by the awnings. Apart. from the film screen, there is also a continuous slide projector. in the sideof the caravan, and large display boards arc provided in the caravan windows.