New S.D. 8-ton Fork
23rd May 1952
Page 39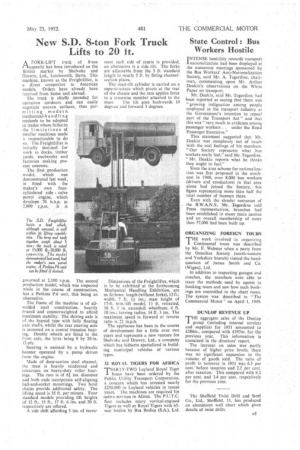 Page 39, 23rd May 1952 —
New S.D. 8-ton Fork
Close
Truck State Control : Bus
Lifts to 20 it.
Workers Hostile
A FORK-LIFT truck of 8-ton tt.capacity has been introduced on the British market by She!yoke and Drewry, Ltd., Letchworth, Herts. This machine, known as the Freightlifter, is a direct competitor to American models. Orders have already been received from home and abroad.
The truck is chiefly intended for operation outdoors and can easily negotiate uneven surfaces, thus permitting modern mechanical-handling methods to be adopted in trades where hitherto the limitations of smaller machines Made it impracticable to do so. The Freightlifter is initially destined for work in docks, timber yards, steelworks and factories making precast concrete.
The :first PrOfluction model, which was demonstrated last week, is fitted with the maker's own fourcylinde red . side valve petrol engine, which develops 70 b.h.p, at
2,800 r.p.rn • .It is governed at 2,100 r.p.m. The second production mcidel, which was inspected while in the course of construction, has a Perkins P.6 unit, this being an alternative.
The frame of the machine is of allwelded steel construction, heavily braced and counterweighted to afford maximum stability. The driving axle is of the hypoid type with fully floating axle shafts, whilst the rear steering axle is mounted on a central trunnion bearing. Double wheels are fitted to the front axle, the tyres being 9 by 20-in. 12-ply.
Steering is assisted by a hydraulic booster operated by a pump driven from the engine.
Made of deep-section steel channel, the mast is heavily reinforced and telescopes on heavy-duty roller bearings. The ram is of 61 ins, diameter and both ends incorporate self-aligning ball-and-socket mountings. Two hoist chains provide additional safety. The lifting speed is 35 ft. pet-minute. .Pour standard Models providing lift heights of 12 ft., 15 ft., 17 ft. 6 ins. and 20 ft. respectively are offered.
A side shift affording 5 ins, of move
mem each side of centre is provided; an alternative is a side tilt: The forks are adjustable from the 3 ft. standard length to nearly 5 ft. by fitting channelsection plates.
The mast-tilt cylinder is carried on a superstructure which pivots at the rear of the chassis and the ram applies force to a crosswise member attached to the mast. The tilt goes backwards 10 degrees and forward 3 degrees.
Dimensions of the Freightlifter, which is to be exhibited at the forthcoming Mechanical Handling Exhibition, are as follows: length (without forks), 13 ft.; Width, 7 ft. 11 ins.; mast height of 17-ft, 6-in.-lift model, 11 ft. retracted, 16 ft. 1 in, extended; wheelbase, 6 ft. 10 ins.; turning radius, 14 ft. 3 ins. The maximum speed in forward or reverse ratio is 22 m.p.h.
The appliance has been in the course of development for a little over two years and represents a new venture for SheIvoke and Drewry, Ltd., a company which has hitherto specialized in building municipal vehicles of various types.
32 ROYAL TIGERS FOR AFRICA THIRTY-TWO Leyland Royal Tiger I buses have been ordered by the Public Utility Transport Corporation, a concern which has invested nearly £250,000 in Leyland vehicles in recent years. The machines are required for native services in Africa. The P.U.T.C. fleet includes many vertical-engined Tigers as well as Royal Tigers with 65seat bodies by Bus Bodies (S.A.), Ltd.
INTENSE hositility towards transport nationalization had been displayed at the numerous meetings sponsored by the Bus Workers' Anti-Nationaliiation Society, said Mr. A. Tegerdine, chairman, commenting upon Mr. Arthur Deakin's observations on the White Paper on transport.
Mr. Deakin, said Mr. Tegerdine, had been reported as saying that there was "growing indignation among people employed in the transport industry at the Government's intention to repeal part of the Transport Act" and that this was " very much in evidence among passenger workers . . under the Road Passenger Executive."
This statement suggested that Mr. Deakin was completely 'out of touch with the real feelings of his members.
Our Society represents what ,bus workers really feel," said Mr. Tegerdine. "Mr. Deakin reports what he thinks they ought to feel."
Since the area scheme for nationalization was, first proposed in the northeast in 1948, over 8,000 bus workers (drivers and conductors) in that area alone had joined the Society, this figure representing more than half the total number of busmen there.
Even with the slender resources of the B.W.A.N.S:, Air...Tegerd-ine told Press representatives, branches had been established in many main centres and an overall membership of more than 57,000 had been built up.
ORGANIZING FOREIGN TOURS
THE work involved in organizing Continental tours was described by Mr. F. Webster when a party from the Omnibus Society (north-western and Yorkshire branch) visited the headquarters of James Smith and Co. (Wigan), Ltd.
In addition to inspecting garages and coaches, the members were able to trace the methods used by agents in booking tours and saw how such bookings are controlled in the chart room. The system was described in " The Commercial Motor " on April t, 1949.
DUNLOP REVENUE UP
THE aggregate sales of the Dunlop group (including internal services and supplies) for 1951 amounted to £284m., compared with £197m. for the previous year. This information is contained in the directors' report.
The increase on sales was partly because of higher price levels; there was no significant expansion in the volume of goods sold. The ratio of profit to turnover in 1951 was 6.5 per cent.' before taxation and 2.2 per cent. after taxation. This compared with 9.2 per cent. and 3.4 per cent. respectively for the previous year.
The Sheffield Twist Drill and Steel Co., Ltd., Sheffield, 11, has produced an aluminium wall chart which gives details of twist drills.