State Assets: Mr. Churchill's Reply
23rd May 1952
Page 37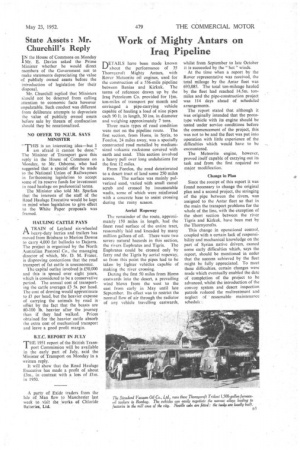 Page 37, 23rd May 1952 —
State Assets: Mr. Churchill's Reply
Close
IN the House of Commons on Monday I Mr. E. Davies asked the Prime Minister whether he would direct members of the Government not to make statements depreciating the value of publicly owned assets before the introduction of legislation for their disposal.
Mr. Churchill replied that Ministers should not be deterred from calling attention to economic facts however unpalatable. Such conduct was different from den-crate attempts to depreciate the value of publicly owned assets before sale by threats of confiscation should they be renationalized.
NO OFFER TO N.U.R. SAYS MINISTER
" THIS is an interesting idea—but I am afraid it cannot be done." The Minister of Transport gave this reply in the House of Commons on Monday, to Mr. Osborne, who had suggested that a special offer be made to the National Union of Railwaymen in forthcoming legislation to accept some of its reserve funds for investment in road haulage on preferential terms.
The Minister also told Mr. Sparkes that the interests of the staff of the Road Haulage Executive would be kept in mind when legislation to give effect to the White Paper proposals was framed.
HAULING CATTLE PAYS
ATRAIN of Leyland six-wheeled heavy-duty lorries and trailers has moved from Brisbane to Marion Downs to carry 4,000 fat bullocks to Dajarra. The project is organized by the North Australian Pastoral Co., the managing director of which, Mr. D. M. Fraser, is disproving contentions that the road transport of fat cattle is uneconomic.
The capital outlay involved is £50,000 and this is spread over eight years, which is considered to be a conservative period. The annual cost of transporting the cattle averages El 5s. per head. The cost of droving would approximate to El per head, but the heavier expense of carrying the animals by road is offset by the fact that the beasts are 80-100 lb. heavier after the journey than if they had walked. Prices obtained for the heavier cattle absorb the extra cost of mechanized transport and leave a good profit margin.
B.T.C. REPORT IN JULY THE. 1951 report of the British Trans ' port Commission will be available in the early part of July, said the Minister of Transport on Monday in a written reply.
It will show that the Road Haulage Executive has made a profit of about £.3m., in contrast with a loss of Elm. in 1950.
A party of Exide traders from the Isle of Man flew to Manchester last week to visit the Works of Chloride Batteries, Ltd.