No Compensation : Legal Defence ?
23rd May 1952
Page 35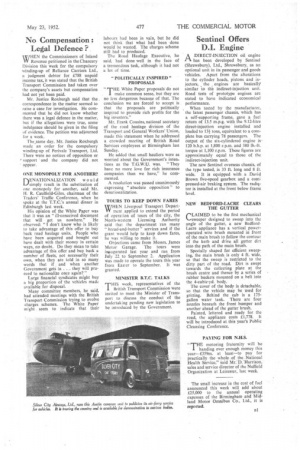 Page 35, 23rd May 1952 —
No Compensation : Legal Defence ?
Close
MIIEN the Commissioners of Inland W Revenue petitioned in the Chancery Division this week for the compulsory winding-up of Reliance Carriers Ltd., a judgment debtor for £788 unpaid income tax, it was stated that the British Transport Commission had taken over the company's assets but compensation had not yet been paid.
Mr. Justice Roxburgh said that the correspondence in the matter seemed to raise a case for investigation. He commented that he did not know whether there was a legal defence in the matter, but if the allegations were true, some indulgence should be given in the filing of evidence. The petition was adjourned for a week.
The same day, Mr. Justice Roxburgh made an order for the compulsory winding-up of Perivale Transport, Ltd. There were no notices of opposition or • support and the company did not appear.
ONE MONOPOLY FOR ANOTHER?
DENATIONALIZATION would L./simply result in the substitution of one monopoly for another, said Mr. H. R. Caulfield-Giles, chairman of the Traders' Traffic Conference, when he spoke at the T.T.C.'s annual dinner in Edinburgh last week.
His opinion of the White Paper was that it was an "ill-conceived docun'yent that will get us nowhere." He observed: "I don't know who is likely to take advantage of this offer to buy back road haulage units. People who have been acquired and bought out have dealt with their money in certain ways, no doubt. Do they mean to take advantage of this offer and buy back a number of fleets, not necessarily their own, when they are told in so many words that if and when another Government gets in . . . they will proceed to nationalize once again?"
Large financial syndicates might buy a big proportion of the vehicles mad.; available for disposal.
Many committee members, he said, had attended meetings with the British Transport Commission trying to evolve charges schemes. The White Paper might seem to indicate that their labours had been in vain, but he did not think that what had been done would be wasted. The charges scheme still had to produced.
The Road Haulage Executive, he said, had done well in the face of a tremendous task, although it had not a lot of time:
"POLITICALLY INSPIRED" PROPOSALS " THE White Paper proposals do not I make common sense, but they are no less dangerous because of that. The conclusion we are forced to accept is that the proposals are politically inspired to provide rich profits for the big investors."
Mr. Frank Cousins, national secretary of the road haulage division of the Transport and General Workers' Union, made this statement when he addressed a crowded meeting of British Road Services employees at Birmingham last Sunday.
He added that small hauliers were as worried about the Government's intentions as the T.G.W.U. was. "They have no more love for rich insurance companies than we have," he commented.
A resolution was passed unanimously expressing "absolute opposition" to denationalization.
TOURS TO KEEP DOWN FARES 'WHEN Liverpool Transport Depart YV applied to extend the period of operation of tours of the city, the North-western Licensing Authority said that the department ran many " bread-and-butter " services and if the grant would help to keep down fares, he was willing to make it.
• Objections came from Messrs. James Motor Garage. The tours were inaugurated last year and ran from July 22 to September 2. Application was made to operate the tours this year from Easter to September. It was granted.
MINISTER R.T.C. TALKS THIS week, representatives of the / British Transport Commission were invited to meet the Minister of Transport to discuss the conduct of the undertaking pending new legislation to be introduced by the Government.