What price enforcement? Trucks stuck in
23rd March 1995
Page 8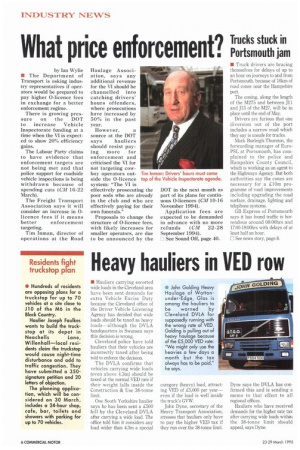 Page 8, 23rd March 1995 —
What price enforcement? Trucks stuck in
Close
Portsmouth jam
by Ian Wylie • The Department of Transport is asking industry representatives if operators would be prepared to pay higher 0-licence fees in exchange for a better enforcement regime.
There is growing pressure on the DOT to increase Vehicle Inspectorate funding at a time when the VI is expected to show 20% efficiency gains.
The Labour Party claims to have evidence that enforcement targets are not being met and that police support for roadside vehicle inspections is being withdrawn because of spending cuts (CM 16-22 March).
The Freight Transport Association says it will consider an increase in 0licence fees if it means better enforcement targeting.
Tim Inman, director of operations at the Road Haulage Association, says any additional revenue for the VI should be channelled into catching drivers' hours offenders, where prosecutions have increased by 50% in the past year.
However, a source at the DOT says hauliers should resist paying more for enforcement and criticised the VI for not targeting cowboy operators outside the 0-licence system: "The VI is effectively prosecuting the poor sods who are already in the club and who are effectively paying for their own funerals."
Proposals to change the structure of 0-licence fees, with likely increases for smaller operators, are due to be announced by the DOT in the next month as part of its plans for continuous 0-licences (CM 10-16 November 1994).
Application fees are expected to be demanded in advance with no more refunds (CM 22-28 September 1994).
Li See Sound Off, page 40.