'There is no point in having high standards if they are not effectively applied'
23rd March 1995
Page 52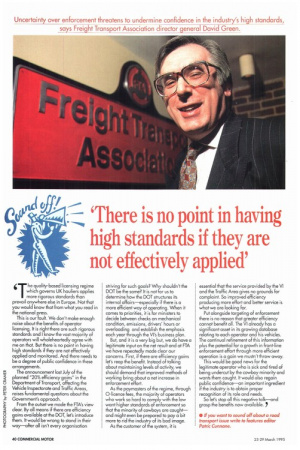 Page 52, 23rd March 1995 —
'There is no point in having high standards if they are not effectively applied'
Close
6 he quality-based licensing regime T
which governs UK hauliers applies more rigorous standards than prevail anywhere else in Europe. Not that you would know that from what you read in the national press. This is our fault. We don't make enough noise about the benefits of operator licensing. It is right there are such rigorous standards and I know the vast majority of operators will wholeheartedly agree with me on that. But there is no point in having high standards if they are not effectively applied and monitored. And there needs to be a degree of public confidence in these arrangements.
The announcement last July of the planned "20% efficiency gains" in the Department of Transport, affecting the Vehicle Inspectorate and Traffic Areas, raises fundamental questions about the Government's approach. From the outset we made the FTA`s view clear. By all means if there are efficiency gains available at the DOT, let's introduce them. It would be wrong to stand in their way—after all isn't every organisation striving for such goals? Why shouldn't the DOT be the same? It is not for us to determine how the DOT structures its internal affairs—especially if there is a more efficient way of operating. When it comes to priorities, it is for ministers to decide between checks an mechanical condition, emissions, drivers' hours or overloading and establish the emphasis each year through the VI's business plan. But, and it is a very big but, we do have a legitimate input on the net result and at FTA we have repeatedly made clear our concerns. First, if there are efficiency gains let's reap the benefit. Instead of talking about maintaining levels of activity, we should demand that improved methods of working bring about a net increase in enforcement effort.
As the paymasters of the regime, through 0-licence fees, the majority of operators who work so hard to comply with the law want higher standards of enforcement so that the minority of cowboys are caught— and might even be prepared to pay a bit more to rid the industry of its bad image. As the customer of the system, it is essential that the service provided by the VI and the Traffic Area gives no grounds for complaint. So improved efficiency producing more effort and better service is what we are looking For. Put alongside targeting of enforcement there is no reason that greater efficiency cannot benefit all. The VI already has a significant asset in its growing database relating to each operator and his vehicles. The continual refinement of this information plus the potential for a growth in front-line enforcement effort through more efficient operation is a gain we mustn't throw away. This would be good news for the legitimate operator who is sick and tired of being undercut by the cowboy minority and wants them caught. It would also regain public confidence—an important ingredient if the industry is to obtain proper recognition of its role and needs, So let's stop all this negative talk—and grasp the benefits now available.