Sevel sees the lights
23rd March 1995
Page 16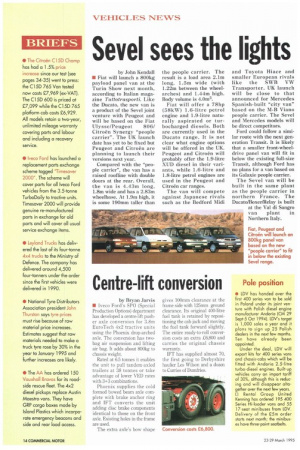 Page 16, 23rd March 1995 —
Sevel sees the lights
Close
by John Kendall • Fiat will launch a 800kg payload panel van at the Turin Show next month, according to Italian magazine Tuttotrasporti. Like the Ducato, the new van is a product of the Sevel joint venture with Peugeot and will be based on the Fiat Ulysse/Peugeot 806/ Citroen Synergy "people carrier". The UK launch date has yet to be fixed but Peugeot and Citroen are planning to launch their versions next year.
Compared with the "people carrier", the van has a raised roofline with double doors at the rear. Overall, the van is 4.43m long, 1.8m wide and has a 2.83m wheelbase. At l .9m high, it is some 190mtn taller than the people carrier. The result is a load area 2.1m long, 1.5m wide (with 1.22m between the wheelarches) and 1.44m high. Body volume is 4.0m3.
Fiat will offer a 78hp (58kW) 1.6-litre petrol engine and 1.9-litre naturally aspirated or turbocharged diesels. Both are currently used in the Ducat° range. It is not clear what engine options will be offered in the UK. Peugeot and Citroen will probably offer the 1.9-litre XUD diesel in their variants, while 1.6-litre and 1.8-litre petrol engines are used in the Peugeot and Citroen car ranges.
The van will compete against Japanese rivals such as the Bedford Midi and Toyota Hiace and smaller European rivals like the SWB VW Transporter. UK launch will be close to that announced for Mercedes Spanish-built "city van" based on the M-B Viano people carrier. The Sevel and Mercedes models will be direct competitors.
Ford could follow a similar route with the next generation Transit. It is likely that a smaller front-wheeldrive panel van will fit in below the existing full-size Transit, although Ford has no plans for a van based on its Galaxie people carrier.
The Sevel van will be built in the same plant as the people carrier in northern France. The Ducato/Boxer/Relay is built at the Val di Sangro van plant in Northern Italy.