Centre-lift conversion
23rd March 1995
Page 16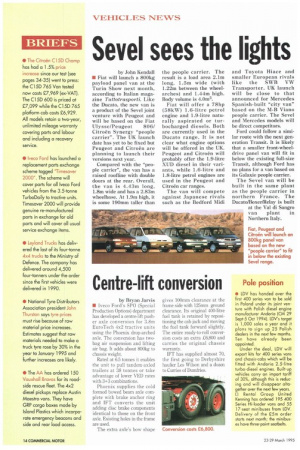 Page 16, 23rd March 1995 —
Centre-lift conversion
Close
by Bryan Jarvis • lveco Ford's SPO (Special Production Options) department has developed a centre-lift pusher axle conversion for 3.8m EuroTech 4x2 tractive units using the Phoenix drop-arched axle, The conversion has twobag air suspension and lifting air bag. It adds about 800kg to chassis weight.
Rated at 6.5 tonnes it enables the unit to pull tandem-axled trailers at 38 tonnes or take advantage of lower VED rates with 3+3 combinations.
Phoenix supplies the cold formed bowed beam axle complete with brake anchor ring and IFT converts the unit adding disc brake components identical to those on the front axle. Existing holes in the frame are used.
The extra axle's bow shape
gives 100mm clearance at the frame side with 125mm ground clearance. Its original 400-litre fuel tank is retained by repositioning the cab jack and moving the fuel tank forward slightly. The entire ready-to-roll conversion costs an extra £6,800 and carries the original chassis warranty.
IFT has supplied almost 70, the first going to Derbyshire haulier Les Wilson and a dozen to Curries of Dumfries.