SELL-OFF 'THREAT' TO TRL
23rd March 1995
Page 11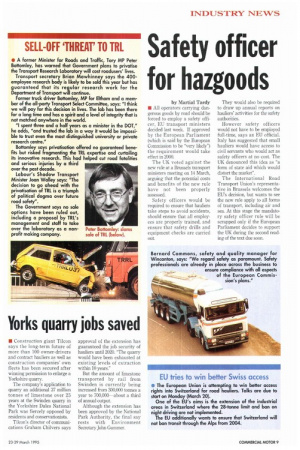 Page 11, 23rd March 1995 —
SELL-OFF 'THREAT' TO TRL
Close
A former Minister for Roads and Traffic, Tory MP Peter Bottomley, has warned that Government plans to privatise the Transport Research Laboratory will cost roadusers' lives.
Transport secretary Brian Mawhinney says the 400employee research body is likely to be sold this year but has guaranteed that its regular research work for the Department of Transport will continue.
Former truck driver Boltomley, MP for Eltham and a member of the all-party Transport Select Committee, says: "I think we will pay for this decision in lives. The lab has been there for a long time and has a spirit and a level of integrity that is not matched anywhere in the world.
"I spent three and a half years as a minister in the DOT," he adds, "and trusted the lab in a way it would be impossible to trust even the most distinguished university or private research centre."
Bottomley says privatisation offered no guaranteed benefits but risked fragmenting the TRL expertise and curtailing its innovative research. This had helped cut road fatalities and serious injuries by a third over the past decade.
Labour's Shadow Transport Minister Joan Walley says: "The decision to go ahead with the privatisation of TRL is a triumph of political dogma over future road safety".
The Government says no sale options have been ruled out, including a proposal by TRL's management and staff to take over the laboratory as a nonprofit making company.