WESTM NSTER HAUL
23rd March 1979
Page 7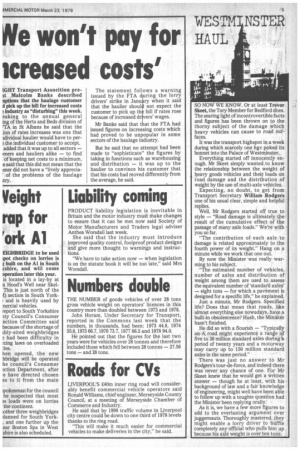 Page 7, 23rd March 1979 —
WESTM NSTER HAUL
Close
SO NOW WE KNOW. Or at least Trevor Skeet, the Tory Member for Bedford does. The searing light of incontrovertible facts and figures has been thrown on to the thorny subject of the damage which heavy vehicles can cause to road surfaces.
It was the transport highspot in .a week during which scarcely one hgv poked its bonnet into the Palace of Westminster.
Everything started off innocently enough. Mr Skeet simply wanted to know : the relationship between the weight of .heavy goods vehicles and their loads on road damage and the distribution of weight by the use of multi-axle vehicles.
Expecting, no doubt, to get from Transport Secretary William Rodgers one of his usual clear, simple and helpful replies.
Well, Mr Rodgers started off true to style — "Road damage is ultimately the result of the cumulative effect of the passage of many axle loads." We're with you so far.
"The contribution of each axle to damage is related approximately to the fourth power of its weight." Hang on a minute while we work that one out.
By now the Minister was really warming to his subject.
"The estimated number of vehicles, number of axles and distribution of weight among them are used to assess the equivalent number of 'standard axles' — eight tons — for which a pavement is designed for a specific life," he explained.
Just a minute, Mr Rodgers. Specified life? Does that mean that roads, Iike almost everything else nowadays, have a built-in obsolescence? Hush, the Minister hasn't finished.
He did so with a flourish — "Typically an A. road might experience a range of five to 30 million standard axles during a period of twenty years and a motorway may carry up to 150 million standard axles in the same period."
There was just no answer to Mr• Rodgers's tour-de-force, and indeed there was never any chance of one. For Mr Skeet knew that he would get a written answer — though he at least, with his background of law and a fair knowledge of engineering, might well have been able to follow up with a toughie question had the Minister been replying orally.
As it is, we have a few more figures to add to the everlasting argument over juggernauts. Thoroughly mastered, they might enable a lorry driver to baffle completely any official who pulls him up because his axle weight is over ten tons.