fire won't pay for icreased costs'
23rd March 1979
Page 7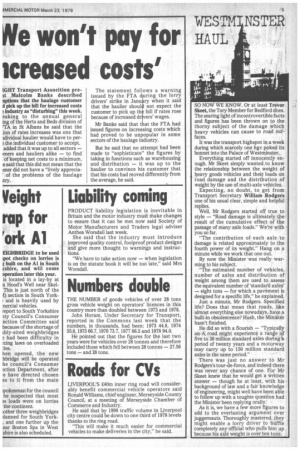 Page 7, 23rd March 1979 —
fire won't pay for icreased costs'
Close
iGHT Transport Assocition preit Malcolm Banks described nptions that the haulage customer d pick up the bill for increased costs :t industry as "disturbing" this week. eaking to the annual general ing of the Hefts and Beds division of ;TA in St Albans he said that the Ion of rates increases was one that idividual haulier would have to perthe individual customer to accept. added that it was up to all sectors — Imers and hauliers alike — to find of keeping net costs to a minimum, e said that this did not mean that the rifler did not have a "lively apprecia' of the problems of the haulage try. The statement follows a warning issued by the FTA during the lorry drivers' strike in Janu ry when it said that the haulier shoul not expect the customer to pick up th bill if rates rose because of increased drivers' wages.
Mr Banks said that that the FTA had issued figures on increasing costs which had proved to be unpopular in some sectors of the haulage industry.
But he said that no attempt had been made to "sophisticate" the figures by taking in functions such as warehousing and distribution — it was up to the haulier to convince his customer that that his costs had moved differently from the average, he said.