IN VIEW of the cost projections which many operators besides
23rd March 1979
Page 50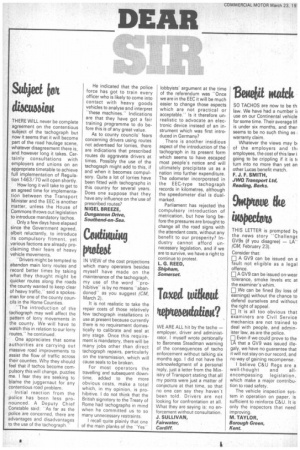 Page 50, 23rd March 1979 —
IN VIEW of the cost projections which many operators besides
Close
myself have made on the maintenance of the tachograph, my use of the word "prohibitive" is by no means 'abandoned' as you suggest (CM, March 2).
It is not realistic to take the repair costs of those relatively few tachograph installations in use at present because currently there is no requirement domestically to calibrate and seal at any stage, Once this requirement is mandatory, there will be many jobs other than direct tachograph repairs, particularly on the transmission, which will cause seals to be broken.
For most operators the travelling and subsequent downtime, added to the more obvious costs, make a total which, in my opinion, is prohibitive. I do not think that the British signatory to the Treaty of Rome had tachographs in mind when he committed us to so many unnecessary restraints I recall quite plainly that one of the main planks of the "Yes" lobbyists" argument at the time of the referendum was "Once we are in the EEC it will be much easier to change those aspects which are not practical or acceptable." Is it therefore unrealistic to advocate an electronic device instead of an instrument which was first introduced in Germany?
There is another insidious aspect of the introduction of the tachograph in its present form which seems to have .escaped most people's notice and will ultimately precipitate us as a nation into further expenditure. The odometer incorporated in the EEC.-type tachograph records in kilometres, although the speedometer dial is dualmarked.
Parliament has rejected the compulsory introduction of metrication, but how long before the pressures are brought to change all the road signs with the attendant costs, without any benefit to our prosperity? Industry cannot afford unnecessary legislation, and if we are to survive, we have a right to continue to protest.
L. G. REED, Shipham, Somerset.