60 1 1
23rd March 1979
Page 50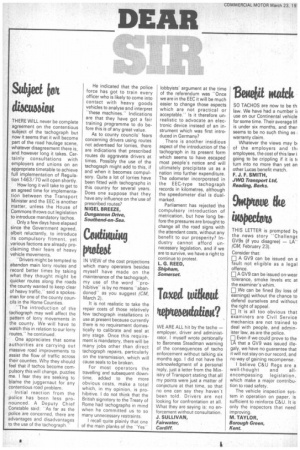 Page 50, 23rd March 1979 —
60 1 1
Close
diacuaaisit
THERE WILL never be complete agreement on the contentious subject of the tachograph but now it seems that it will become part of the road haulage scene, whatever disagreement there is, and however tong it takes. Certainly consultations with employers and unions on an appropriate timetable to achieve full implementation of Regulation 1463/70 will open shortly.
How long it will take to get to an agreed time for implementation between the Transport Minister and the EEC is another matter, unless the House of Commons throws out legislation to introduce mandatory tachos.
Only a few days have elapsed since the Government agreed, albeit reluctantly, to introduce its compulsory fitment, yet various factions are already proclaiming their fears of heavy vehicle movements.
"Drivers might be tempted to abandon main lorry routes and record better times by taking what they thought might be quicker routes along the roads the county wanted to keep clear of heavy traffic,'" said a spokesman for one of the county councils in the Home Counties.
"The introduction of the tachograph may well affect the pattern of lorry movements in the county. We will have to watch this in relation to our lorry routes," he continued.
One appreciates that some authorities are carrying out massive road improvements to assist the flow of traffic across their counties. Why they should feel that if tachos become compulsory this will change, puzzles me. I fear they are seeking to blame the juggernaut for any contentious road problem.
Initial reaction from the police has been less pronounced. A Deputy Chief Constable said: "As far as the police are concerned, there are advantages and disadvantages to the use of the tachograph."' He indicated that the police force has got to train every officer who is likely to come into contact with heavy goods vehicles to analyse and interpret "'these machines."' Indications are that they have got a fair training programme to do before this is of any great value.
As to county councils' fears concerning drivers using routes not advertised for lorries, there are indications that prescribed routes do aggravate drivers at times. Possibly the use of the tachograph might add to this, if and when it becomes compulsory. Quite a lot of lorries have been fitted with tachographs in this country for several years. Does one suppose that they have any influence on the'use of prescribed routes?
NIGEL BREEZE, Dungannon Drive, Southend-on-Sea.