hird World Britain
23rd March 1979
Page 5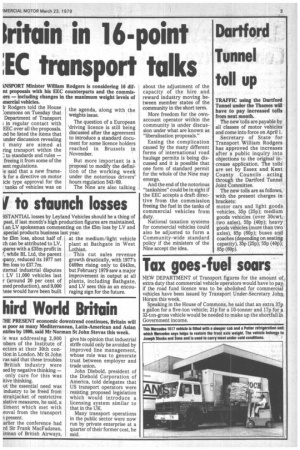 Page 5, 23rd March 1979 —
hird World Britain
Close
['HE PRESENT economic downtrend continues, Britain will ts poor as many Mediterranean, Latin-American and Asian ntries by 1990, said Mr Norman St John Stevas this week.
le was addressing 2,000 mbers of the Institute of ectors at their 30th contion in London. Mr St John vas said that these troubles British industry were sed by negative thinking — only cure for this was itive thinking.
.ut the essential need was industry to be freed from straitjacket of restrictive slative measures, he said, a timent which met with ■ roval from the transport .1 present.
,arlier the conference had rd Sir Frank MacFadzean, irman of British Airways, give his opinion that industrial strife could only be avoided by improved line management, whose role was to generate trust between employer and trade union.
John Diebold, president of the Diebold Corporation of America, told delegates that US transport operators were resisting proposed legislation which would introduce a licensing system similar to that in the UK.
Many transport operations in the public sector were now run by private enterprise at a quarter of their former cost, he said.