Winter tours in client's colours
23rd March 1979
Page 38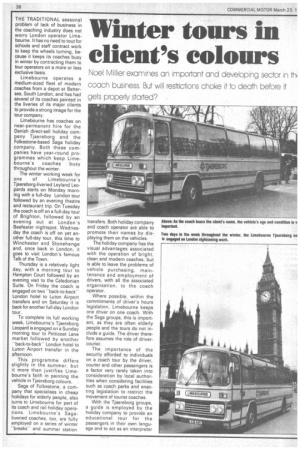 Page 39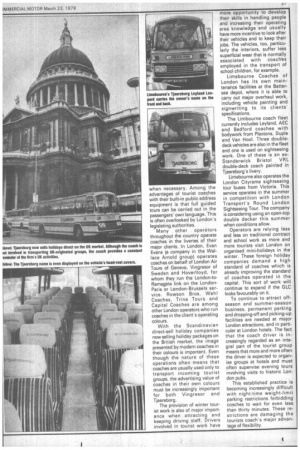 Page 38, 23rd March 1979 —
Winter tours in client's colours
Close
\Gel Millier examines an important and developing sector in th( coach business. But will restrictions choke it to death before it gets properly started?
THE TRADITIONAL seasonal problem of lack of business in the coaching industry does not worry London operator Limebourne. It has no need to tout for schools and staff contract work to keep the wheels turning, because it keeps its coaches busy in winter by contracting them to tour operators on a more or less exclusive basis.
Limebourne operates a medium-sized fleet of modern coaches from a depot at Battersea, South London, and has had several of its coaches painted in the liveries of its major clients to provide a strong image for the tour company.
Limebourne has coaches on near-permanent hire for the Danish direct-sell holiday company Tjaereborg and the Folkestone-based Saga holiday company. Both these companies have year-round programmes which keep Limebourne's coaches busy throughout the winter.
The winter working week for one of Limebourne's Tjaereborg-liveried Leyland Leopards starts on Monday morning with a full-day London tour followed by an evening theatre and restaurant trip. On Tuesday the coach is off on a full-day tour of Brighton, followed by an evening out at London's Beefeater nightspot. Wednesday the coach is off on yet another full-day tour, this time to Winchester and Stonehenge and, once back in London, it goes to visit London's famous Talk of the Town.
Thursday is a relatively light day, with a morning tour to Hampton Court followed by an evening visit to the Caledonian Suite. On Friday the coach is engaged on two -back-to-backLondon hotel to Luton Airport transfers and on Saturday it is back for another full-day London tour.
To complete its full working week, Limebourne's Tjaereborg Leopard is engaged on a Sunday morning tour to Petticoat Lane market followed by another "back-to-back' London hotel to Luton Airport transfer in the afternoon.
This programme differs slightly in the summer, but it more than justifies Limebourne's faith in painting the vehicle in Tjaereborg colours.
Saga of Folkestone, a company that specialises in cheap holidays for elderly people, also turns to Limebourne for part of its coach and rail holiday opera tions. Limebourne's Sagalivened coaches, too, are fully employed on a series of winter "'breaks"' and summer station transfers. Both holiday company and coach operator are able to promote their names by displaying them on the vehicles.
The holiday company has the visual advantages associated with the operation of bright, clean and modern coaches, but is able to leave the problems of vehicle purchasing, maintenance and employment of drivers, with all the associated organisation, to the coach operator.
Where possible, within the commitments of driver's hours legislation. Limebourne keeps one driver on one coach. With the Saga groups, this is important, as they are often elderly people and the tours do not include a guide. The driver therefore assumes the role of drivercourier.
The importance of the security afforded to individuals on a coach tour by the driver, courier and other passengers is a factor very rarely taken into consideration by local authorities when considering facilities such as coach parks and enacting legislation to restrict the movement of tourist coaches.
With the Tjaereborg groups, a guide is employed by the holiday company to provide an educational tour for the passengers in their own language and to act as an interpreter when necessary. Among the advantages of tourist coaches with their built-in public address equipment is that full guided tours can be carried out in the passengers' own language. This is often overlooked by London's legislating authorities.
Many other operators throughout the country operate coaches in the liveries of their major clients. In London, Evan Evans (a company in the Wallace Arnold group) operates coaches on behalf of London Air Tours of Geneva, Vingresor of Sweden and Hoverlloyd, for whom they run the London-toRamsgate link on the LondonParis or London-Brussels service. Rowson Bros, Wahl Coaches, Trina Tours and Capital Coaches are among other London operators who run coaches in the client's operating colours.
With the Scandinavian direct-sell holiday companies now selling holiday packages on the British market, the image presented by modern coaches in their colours is important. Even though the nature of these operations often means that coaches are usually used only to transport incoming tourist groups, the advertising value of coaches in their own colours must be increasingly important for both Vingresor and Tjaereborg.
The provision of winter tourist work is also of major importance when attracting and keeping driving staff. Drivers involved in tourist work have more opportunity to develop their skills in handling people and increasing their operating area knowledge and usually have more Incentive to look after their vehicles and to keep their jobs. The vehicles, too, particularly the interiors, suffer less superficial wear that is normally associated with coaches employed in the transport of school children, for example.
Limebourne Coaches of London has its own maintenance facilities at the Battersea depot, where it is able to carry out major overhaul work, including vehicle painting and signwriting to its clients' specifications.
The Limbourne coach fleet currently includes Leyland, AEC and Bedford coaches with bodywork from Plaxtons, Duple and Van Hool. Three doubledeck vehicles are also in the fleet and one is used on sightseeing work. One of these is an exStanderwick Bristol VRL double-deck coach painted in Tjaereborg's livery.
Limebourne also operates the London Cityrama sightseeing tour buses from Victoria. This service operates in the summer in competition with London Transport's Round London Sightseeing Tour. The company is considering using an open-top double decker this summer when conditions allow.
Operators are relying less and less on traditional contract and school work as more and more tourists visit London on organised mini-holidays in the winter. These foreign holiday companies demand a high standard of coaches which is already improving the standard of coaches operated in the capital. This sort of work will continue to expand if the GLC looks favourably on it.
To continue to attract offseason and summer-season business, permanent parking and dropping-off and picking-up facilities are needed at major London attractions, and in particular at London hotels. The fact that the coach driver is increasingly regarded as an integral part of the tourist group means that more and more often the driver is expected to organise groups at hotels and must often supervise evening tours involving visits to historic London pubs.
This established practice is becoming increasingly difficult with night-time weight-limit parking restrictions forbidding coaches to wait for even less than thirty minutes. These restrictions are damaging the tourists coach's major advantage of flexibility.