Pride must take second place...
23rd March 1979
Page 36
Page 37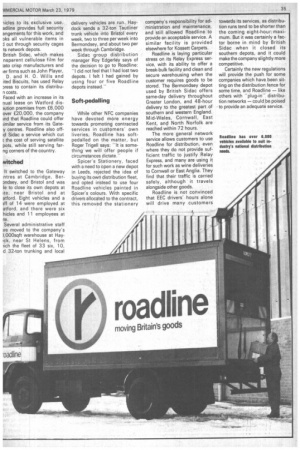 Page 36, 23rd March 1979 —
Pride must take second place...
Close
When it makes better economic sense even own-account companies would do well to use a "plug-In-distribution ne-wor <, says Alan Millar
SOME OWN-ACCOUNT transport companies are inclined to regard distribution as something which they must do in its entirety. Perhaps they regard it as an affront to their ability as transport men if they abdicate the responsibility for the entire process and allow a specialist to perform some of the task.
Yet often they are guilty of letting their pride take precedence over commercial sense, and money which could be devoted to production investment goes instead to an inefficient distribution system.
Many become aware of their erroneous ways when they are faced with a radical decision. Perhaps a factory has to be moved, or drivers' wages rise drastically, or, as is dominating transport managers' minds just now, drivers' hours regulations are being changed. Then they think of alternative schemes and run into the arms of willing specialist firms in the private and public sectors.
National Freight Corporation is heavily involved in providing contracted distribution through several of its subsidiary companies, including Roadline UK Ltd, which offers a wide range of delivery services to potential clients.
Roadline director of marketing Roger Trigell can rhyme off an almost endless list of cases where his company has solved industry's distribution problems. After all, with 8,500 employees engaged in driving, loading, maintaining, and organising the running of 2,300 rigid vans, 880 articulated units, and 3,300 trailers at 75 strategically-positioned depots, the company is well placed to meet individual needs.
• Around 95 per cent of Roadline's activity is centred on its basic Network service, known formerly as Trade Routes, which offers either a daily collection and delivery service or collection in response to telephone calls where demand is lower. This offers delivery throughout the country, and the establishment of 24-hour local deliveries is offering faster distribution than was available in the past. It includes full proof-ofdelivery receipts and insurance liability which Roadline offers at present at £1,250 per tonne.
Scotch whisky blender and bottler Matthew Gloag of Perth found the network service of great value when it was faced with the need to build up its facilities to cope with increased volumes of business. The choice was simple: either build new premises to handle the growth, or bring in a distribution contractor.
Gloag has been able to reorganise its existing bonded warehouse to handle the assembly of orders. It uses some of Roadline's depots as buffer stores, and despatches consignments daily from there to its customers. It finds that this has helped improve coverage of remoter areas, and benefits from bulk deliveries being made weekly to the buffer stores.
On a more formalised bas Roadline Relay Express tak the nastiness out of a cL tomer's distribution. It allo■ him to provide the trunking vice which is easier to organiE and handles, on a zonal bas 24, 48, and 72-hour deliveri from its Gateway centres Glasgow, Newcastle, ME chester, Nottingham, W verhampton, Cambridge, Lc don (Bermondsey), and Bristc
Typical of the customers this service are cigarette cor panies, which demand a servit which offers high security ar which does not identify the lo being carried. One mail manufacturer reduced its cp.4 London area operation allowing Roadline to devote 1 iicles to its exclusive use. adline provides full security angements for this work, and Dks all vulnerable items in rJ out through security cages ts network depots.
British Sidac, which makes nsparent cellulose film for tato crisp manufacturers and ler firms such as John Player, . D. and H. 0. Wills and ited Biscuits, has used Relay 3ress to contain its distribun costs.
Faced with an increase in its nual lease on Watford dis?ution premises from E6,000 over £20,000, the company ind that Roadline could offer ;imilar service from its Gatey centres. Roadline also offid Sidac a service which cut t the cost of serving satellite pots, while still serving farng corners of the country.
witched
It switched to the Gateway ntres at Cambridge, BerDndsey, and Bristol and was 'le to close its own depots at ite, near Bristol and at atford. Eight vehicles and a aff of 14 were employed at atford, and there were six hides and 11 employees at Several administrative staff ?re moved to the company's ),000sqft warehouse at Hayick, near St Helens, from lich the fleet of 33 six, 10, d 32-ton trunking and local delivery vehicles are run. Haydock sends a 32-ton Tautliner trunk vehicle into Bristol every week, two to three per week into Bermondsey, and about two per week through Cambridge.
Sidac group distribution manager Roy Edgerley says of the decision to go to Roadline: "I did not feel that I had lost two depots. I felt I had gained by using four or five Roadline depots instead."
Soft-pedalling While other NFC companies have devoted more energy towards promoting contracted services in customers' own liveries, Roadline has softpedalled on the matter, but Roger Trigell says: "It is something we will offer people if circumstances dictate."
Spicer's Stationery, faced with a need to open a new depot in Leeds, rejected the idea of buying its own distribution fleet, and opted instead to use four Roadline vehicles painted in Spicer's colours. With specific drivers allocated to the contract, this removed the stationery company's responsibility for administration and maintenance, and still allowed Roadline to provide an acceptable service. A similar facility is provided elsewhere for Kossett Carpets.
Roadline is laying particular stress on its Relay Express service, with its ability to offer a break-bulk facility and clean and secure warehousing when the customer requires goods to be stored. The Bermondsey depot used by British Sidac offers same-day delivery throughout Greater London, and 48-hour delivery to the greatest part of southern and western England. Mid-Wales, Cornwall, East Kent, and North Norfolk are reached within 72 hours.
The more general network service allows customers to use Roadline for distribution, even where they do not provide sufficient traffic to justify Relay Express, and many are using it for such work as wine deliveries to Cornwall or East Anglia. They find that their traffic is carried safely, although it travels alongside other goods.
Roadline is not convinced that EEC drivers' hours alone will drive many customers towards its services, as distribution runs tend to be shorter than the corning eight-hour maximum. But it was certainly a factor borne in mind by British Sidac when it closed its southern depots, and it could make the company slightly more competitive.
Certainly the new regulations will provide the push for some companies which have been sitting on the distribution fence for some time, and Roadline — like others with "plug-in" distribution networks — could be poised to provide an adequate service.