:opy-car tour licence
23rd March 1979
Page 25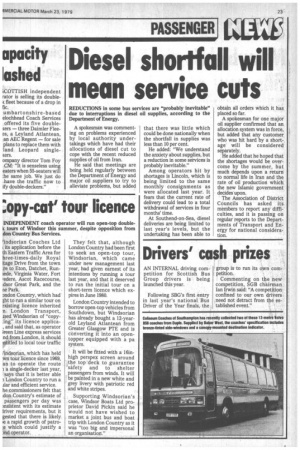 Page 25, 23rd March 1979 —
:opy-car tour licence
Close
INDEPENDENT coach operator will run open-top doubletours of Windsor this summer, despite opposition from don Country Bus Services.
rindsorian Coaches Ltd its application before the th Eastern Traffic Area for hree-times-daily Royal itage Drive from the town :re to Eton, Datchet, Runlede, Virginia Water, Fort redere, Ascot Racecourse, .dsor Great Park, and the ne Park.
Dndon Country, which had ;ht to run a similar tour on existing licence inherited n London Transport, Bed Windsorian of "copying" its licence applica, and said that, as operator 4-een Line express services nd from London, it should !ntitled to local tour traffic findsorian, which has held wn tour licence since 1969, an to operate the route a single-decker last year, says that it is better able London Country to run a _liar and efficient service. he commissioners felt that bon Country's estimate of passengers per day was msistent with its estimate Iriver requirements, but it gested that there is likely oe a rapid growth of patro;e which could justify a )nd operator. They felt that, although London Country had been first to seek an open-top tour, Windsorian, which came under new management last year, had given earnest of its intentions by running a tour last year, and that it deserved to run the initial tour on a short-term licence which expires in June 1980.
London Country intended to borrow open-top vehicles from Southdown, but Windsorian has already bought a 12-yearold Leyland Atlantean from Greater Glasgow PTE and is converting it into an opentopper equipped with a pa system.
It will be fitted with a 16mhigh perspex screen around • the top deck to guarantee -safety and to shelter passengers from winds. It will be painted in a new white and grey livery with patriotic red and white stripes.
Supporting Windsorian's case, Windsor Boats Ltd proprietor David Pickin said he would not have wished to market a joint bus and boat trip with London Country as it was "too big and impersonal an organisation."