Motorbus World.
23rd March 1911
Page 8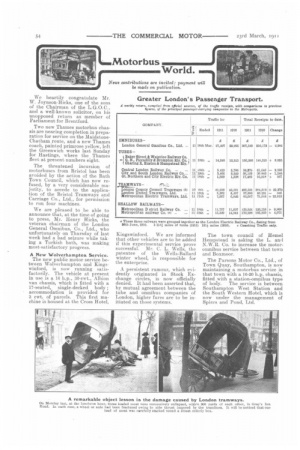 Page 8, 23rd March 1911 —
Motorbus World.
Close
We heartily congratulate Mr. W. Joynson-Hicks, one of the sons of the Chairman of the L.G.O.C., and a well-known solicitor, on his unopposed return as member of Parliament for Brentford.
Two new Thames motorbus chassis are nearing completion in preparation for service on the MaidstoneChatham route, and a new Thames coach, painted primrose yellow, left the Greenwich works last Sunday for Hastings, where the Thames fleet at present numbers eight.
The threatened incursion of motorbuses from Bristol has been avoided by the action of the Bath Town Council, which has now refused, by a very considerable majority, to accede to the application of the Bristol .Tramways and Carriage Co., Ltd., for permission to run four machines.
We are pleased to be able to announce that, at the time of going to press, Mr. Henry Hicks, the veteran chairman of the London General Omnibus, Co., Ltd. who unfortunately on Thursday of last week had a bad seizure while taking a Turkish bath, was making most-satisfactory progress.
A New Wolverhampton Service.
The new public motor service between Wolverhampton and Kingswinford, is now running satisfactorily. The vehicle at present in use is a 16 h.p.) 30-cwt., Albion van chassis, which is fitted with a I7-seated, single-decked body ; accommodation is provided for 3 cwt. of parcels. This first machine is housed at the Cross Hotel, Kingswinford. We are informed that other vehicles are to be added if this experimental service prove successful. Mr. C. L. Wells, the patentee of the Wells-Ballard winter wheel, is responsible for the enterprise.
A persistent rumour, which evidently originated in Stock Exchange circles, is now officially denied. It had been asserted that, by mutual agreement between the tube and omnibus companies of London, higher fares are to be initiated on those systems. The town council of Hemel Hempstead is asking the L. an.1 N. W.R. Co. to increase the motoromnibus service between that town and Boxmoor.
The Parsons Motor Co., Ltd., of Town Quay, Southampton, is now maintaining a motorbus service in that town with a 16-20 h.p. chassis, fitted with a station-omnibus type of body. The service is between Southampton West Station and the South Western Hotel, which is now under the management of Spiers and Pond, Ltd.