One Hears—
23rd March 1911
Page 2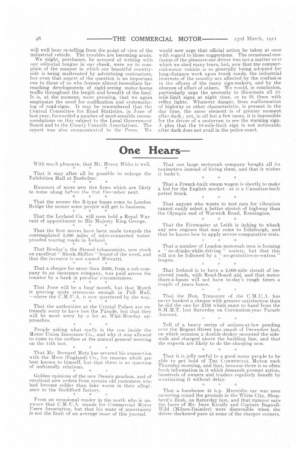 Page 3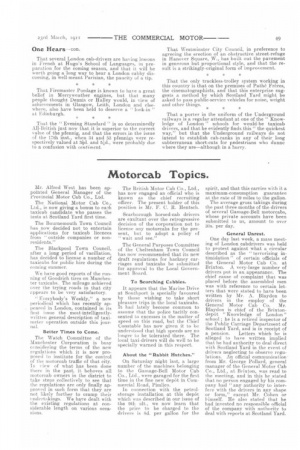 Page 2, 23rd March 1911 —
One Hears—
Close
With muoh pleasure, that Mr. Henry Hicks is well.
That it may after all be possible to enlarge the Exhibition Hall at Rusholme.
Rumours of more new tire firms which are likely to eome along before the :ns[ December next.
That the sooner the B-type buses come to London Bridge the sooner some people will get to business.
That the Leyland Co. will soon hold a Royal Warrant of appointment to His Majesty King George.
That the first moves have been made towards the contemplated 2,000 miles of inter-connected waterproofed touring roads in Ireland.
That Bewlay's, the Strand tobacconists, now stock an excellent " Shock-Shifter " brand of the weed, and that the inventor is not named Muiratti.
That a cheque for more than ,C600, from a cab company to an insurance company, was paid across the counter by a bank in peculiar circumstances.
That June will be a busy" month, but that March is proving quite strenuous enough in Pail Mall, —where the C.M.U.A. is now quartered by the way.
That the authorities at the Crystal Palace are extremely sorry to have lost the Parade, but that they will be more sorry by a lot as Whit-Monday approaches.
People asking what really is the row inside the Motor Union Insurance Co., and why it was allowed to come to the surface at the annual general meeting on the 14th inst.
That Mr. Bernard Metz has severed his connection with the Mors (England) Co., for reasons which are best known to himself, but that there is no question of unfriendly relations.
Golden opinions of the new Dennis gearbox, and of resultant new orders from certain old customers who had become colderthan luke warm in their allegiance to the Guildford factory.
From an occasional reader in the north who is unaware that C.M.U.A. stands for Commercial Motor Users Association, but that his state of uncertainty is not the fault of an average issue of this journal. That one large motoreab company bought all its taximeters instead of hiring them, and that it wishes it hadn't.
That a French-built steam wagon is shortly to make a bid for the English marketas is a Canadian-built petrol truck.
That anyone who wants to test cars for vibration cannot easily select a better stretch of highway than the Olympia end of Warwick Road, Kensington.
That the Firemaster at Leith is itching to whack any new engines that may come to Edinburgh, and that he knows how to apply severe comparative tests.
That a number of London motorcab men is forming a " no-drinks-while-driving " society, but that this will not be followed by a " no-gratuities-no-extras " league.
That Ireland is to have a 2,000-mile circuit of improved roads, with Road-Board aid, and that motor chars-a-hancs will not have to-day's rough times a couple. of years hence.
That the Hon. Treasurer of the C.M.U.A. has never banked a cheque with greater satisfaction than he did the one for 2105 which came to hand from the S.XLM.T. last Saturday on Coronation-year Parade Account.
Tell of a heavy series of actions-at-law pending over the Regent-Street bus smash of December last, on which occasion a double-decker mounted the sidewalk and charged above the building. line, and that the experts are likely to do the charging now.
That it is jolly useful to a good many people to be able to get hold of THE COMMERCIAL MOTOR each Thursday morning, and that, because there is so often fresh information in it which demands prompt action, hundreds of owners and traders regularly benefit by scrutinizing it without delay.
That a handsome 45 h.p. Mercedes car was seen careering round the grounds in the White City, Shepherd's Bush, on Saturday last, and that rumour says the faces of Mr. Imre Kiralfy and Captain BagnallWild (Milnes-Daimler) were discernible when the driver slackened pace at some of the sharper corners, That several London cab-drivers are having lessons in French at Hugo's School of Languages, in preparation for the coming Season, and that it will be worth going along way to hear a London cabby discussing, in well-meant Parisian, the paucity of a tip.
That Firemaster Pordage is known to have a great belief in Merryweather engines, but that many people thought Dennis or Halley would, in view of achievements in Glasgow, Leith, London and elsewhere, also have been held to deserve a "look-in " at Edinburgh.
That the "Evening Standard" is so determinedly All-British just now that it is superior to the correct value of the pfennig, and that the errors in the issue of the 17th inst., when 34 and 53 pfennigs were respectively valued at aid. and 5.1d., were probably due to a confusion with centiment.
That Westminster City Council, in preference to agreeing the erection of an obstructive street-refuge in Hanover Square, W., has built out the pavement in generous but proportional style, and that the result is a strikingly-original form of improvement.
That the only trackless-trolley system working in this country is that on the premises of Pathe Freres, the cinematographists, and that this enterprise suggests a method by which Scotland Yard might be asked to pass public-service vehicles for noise, weight and other things.
That a porter in the uniform of the Underground i railways s a regular attendant at one of the" Knowledge of London" schools for would-be taxicab drivers, and that he evidently finds this" the quickest way," but that the Underground railways do not intend to establish cab-ranks in any of their long subterranean short-cuts for pedestrians who dunno where they are—although in a hurry.