COMING TYRE ECONOMY EXHIBITIONS
23rd June 1944
Page 21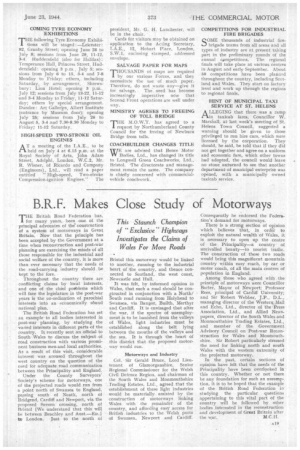 Page 21, 23rd June 1944 —
COMING TYRE ECONOMY EXHIBITIONS
Close
,THE following Tyre Economy Exhibitions will be staged; —Leicester : 92, Granby Street; opening June 28 to July 8; sessions from June 29, 11-12, 3-4. Huddersfield (also for Halifax): Temperance Hall, Princess Street, Huddersfield: opening 3 p.m., July 5; sessions from July 6 to 15, 3-4 and 7-8 Monday to Friday; others, including Saturday, by arrangement. Shrews. bury : Lion Hotel; opening3 p.m.,
• July 12; sessions from July 13-22, 11-12 and 3-4 Monday to Friday, 11-12 Saturday; others by special arrangement. Dundee: Art Galleries, Albert Institute (entrance by Museum door); opening July 25; sessions from July 26 to August 5, 3-4 and 7.30-8.30 Monday to Friday; 11-12 Saturday, HIGH-SPEED TWO-STROKE OIL ENGINES
AT a meeting of . the I.A.E., to be
• held on July 4 at 6.15 p.m. at the Royal Society of Arts, John Adam Street, Adelphi, London, W.C,2, Mr. R. Wisner, of Ricardo and Company (Engineers), Ltd., will read a paper entitled " High-speed, Two-stroke Compression-ignition Engines." The president, Mr. G. •H. Lanchester, will be in the chair.
Cards for visitors may be obtained on application to the Acting Secretary, I,A.E,, 12, Hobart Place, London, S.W.1, enclosing stamped, addressed envelope.
SALVAGE PAPER FOR MAPS
THOUSANDS of maps are required I by our varipus Forces, and they necessitate the use of much paper. Therefore, do not waste any—give it
for salvage. The need has become increasingly imperative now that Second Front operations are well under way.
MINISTRY AGREES TO FREEING OF TOLL BRIDGE
THE M.O.W.T. has agreed to a request by Northumberland County Council for the freeing of Newburn Bridge from tolls.
COACHBUILDER CHANGES TITLE
WE are advised that Bence Motor Bodies, Ltd., has changed its title to Longwell Green Coachworks, Ltd., Bristol. -The directorate and managemeut remain the same. The company is chiefly concerned with commercialvehicle coachwork.
COMPETITIONS FOR INDUSTRIAL FIRE BRIGADES COME thousands of industrial fire
brigade teams from all areas and all types of industry are at present taking part in the preliminary rounds of the annual competitions. The regional finals will take place at various centres iii August and early September. About 50 competitions have been planned throughout the country, including Scotland and Wales. They start'on factory level and work up through the regions to regional finals.
HINT OF MUNICIPAL TAXI SERVICE AT ST. HELENS
A LLEGING that there was a ramp in taxicab fares, Councillor W. Marshall, at. last week's meeting of St. Helens Town Council, suggested a warning should be given to those privileged to run hire cars, which were licensed by the corporation. They should, he said, be told that if they aid not get together and agree on a uniform and economic fare, which other towns had adopted, the couricil would leave no stone unturned to see that another department of municipal enterprise was opened, with a municipally owned taxicab ,service.