Ribble Changes Outlined by Chairman
23rd June 1944
Page 20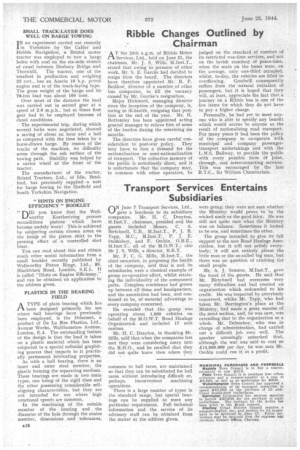 Page 20, 23rd June 1944 —
Ribble Changes Outlined by Chairman
Close
AT the 25th a.g.m. of Ribble Motor Services. Ltd., held on June 21, the chairman, Mr. J. S. Wills, M.Inst.T., stated that owing to pressure of other work, Mr. S. E. Garcke had decided to resign frbm the board, The directors have therefore appointed Mr. R. P. BeddoW, director of a number of other bus 'companies, to fill the vacancy caused by Mr. Garcke's resignation,
Major Hickmott, managing director since the inception of the company, is, owing to ill-health, resigning that position at the end of the year.Mr. H. Bottomley has been appointed acting general manager to relieve him of some of the burden during the remaining six months.
The directors have given careful consideration to post-war policy. They may have to face a demand for the nationalization or semi-nationalization of transport. The collective memory of the public is notoriously short, and it is unfortunate that the company may, in common with other operators, be judged on the standard of comfort of its restricted war-time services, and not on the lavish standard of peace-time, when the seats on the buses were, on the average, only one-third occupied, whilst, to-day., the vehicles are filled to overflowing. Goodwill consequently suffers from the natural irritation of passengers, but it is hoped that they will, at least, appreciate the fact that a journey on a Ribble bus is one, of the few items for which they do not have to pay a higher charge.
Personally, he had yet to meet anyone who is able to specify any benefit which would accrue to anyone as the result of nationalizing road transport. For many years it had been the policy of the , company to co-operate with municipal and company passengertransport undertakings and with the L.M.S. Railway, to provide the public with every possible form of joint, through, and interconnecting services. This was encouraged by the late R.T.C., Sir William Chamberlain.