THE TRANSPORT OF EXPLOSIVES •
23rd June 1944
Page 19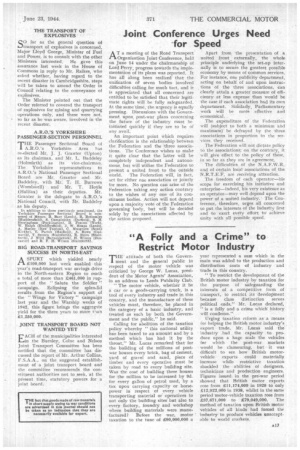 Page 19, 23rd June 1944 —
THE TRANSPORT OF EXPLOSIVES •
Close
QO far as the general question of transport of explosives is concerned, Major Lloyd George, Minister of Fuel and Power, is to consult with the other Ministers interested. He gave this assurance last week in the House of Commons in reply to Mr. Raikes, who asked whether, having regard to the recent disaster in Cambridgeshire, steps will be taken to amend the Order in Council relating to the conveyance of explosives.
The Minister pointed out that the Order referred to covered the transport of explosives for mining and quarrying operations only. and these were not, so far as he was aware, involved in the recent disaster.
A.R.O.'S YORKSHIRE PASSENGER-SECTION PERSONNEL
THE Passenger Sectional Board ol A.R.O.'s Yorkshire Area has re-elected Mr. J. J. Granter (Upton) as its chairman, and Mr. L. Baddeley (Holmfirth) as its vice-chairman. The Yorkshire representatives to A.R.O.'s National Passenger Sectional Board are Mr. Granter and Mr. Baddeley, with Mr: T. H. Burrows (Wombwell) and Mr. T. Hoyle (Halifax) as their deputies. Mr. Granter is the delegate to A.R.O.'s National Council, with lir. Baddeley as his deputy.
Bid ROAD-TRANSPORT SAVINGS SUCCESS IN NORTH-EAST
ASPURT which yielded nearly £100,000 last week enabled this year's road-transport war savings drive in the North-eastern Region to reach a total of more than £461,000 in support of the " Salute the Soldier " campaign. Eclipsing the splendid results from the Region's support of the " Wings for Victory" campaign last year and the Warship weeks of 1942, this figure brings the aggregate yield for the three years to More than £1,260,000.
. JOINT TRANSPORT BOARD NOT WANTED YET ACH of the municipalities interested in the Burnley, Collie and Nelson Joint Transport Committee has been notified that the committee has discussed the report of Mr. Arthur Collins, F.S.A.A., on the suggested establishment of a joint transport board and the committee recommends the constituent authorities not to seek, at the present time, statutory powers for a joint board.