High-pressure cleanser
23rd July 1971
Page 55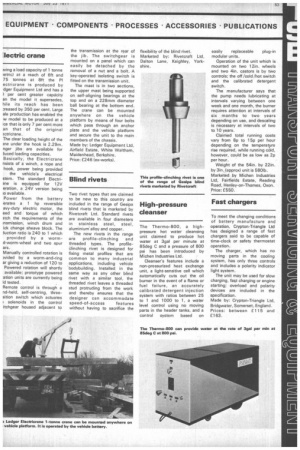 Page 55, 23rd July 1971 —
High-pressure cleanser
Close
The Thermo-800, a highpressure hot water cleansing unit claimed to produce hot water at 3gal per minute at 85deg C and a pressure of 800 psi has been introduced by Michen Industries Ltd.
Cleanser's features include a non-pressurized heat exchange unit, a light-sensitive cell which automatically cuts out the oil burner in the event of a flame or fuel failure, an accurately calibrated detergent injection system with ratios between 25 to 1 and 1000 to 1, a water level control using no moving parts in the header tanks, and a control system based on easily replaceable plug-in modular units.
Operation of the unit which is mounted on two 12in. wheels and two 41n. castors is by two controls; the off /cold/hot switch and the calibrated detergent switch.
The manufacturer says that the pump needs lubricating at intervals varying between one week and one month, the burner requires attention at intervals of six months to two years depending on use, and descaling is necessary at intervals of two to 10 years, Claimed total running costs vary from Bp to 15p per hour depending on the temperature rise required, while running cold, however, could be as low as 2p per hour.
Weight of the 54in. by 22in. by 3in. lapprox) unit is 580Ib. Marketed by Michen Industries Ltd, Fairfields Estate, Reading Road, Henley-on-Thames, Oxon. Price: £550.