Spraying process
23rd July 1971
Page 53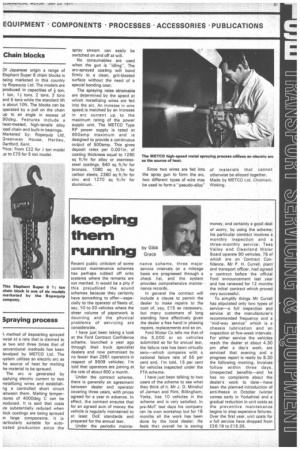 Page 53, 23rd July 1971 —
Spraying process
Close
\ method of depositing sprayed netal at a rate that is claimed to )e two and three times that of :onventional methods has been leveiped by METCO Ltd. The iystem utilizes an electric arc as he source of heat for melting he material to be sprayed.
The arc is generated by ipplying electric current to two netallizing wires and establishrig a controlled short circuit )etween them. Melting temper'tures of 4000deg C can be iroduced. It is said that costs ire substantially reduced when hick coatings are being sprayed in large components. It is iarticularly suitable for autonated production since the spray stream can easily be switched on and off at will.
No consumables are used when the gun is "idling". The arc-sprayed coating will bond firmly to a clean, grit-blasted surface without the need of a special bonding coat.
The spraying rates obtainable are determined by the speed at which metallizing wires are fed into the arc. An increase in wire speed, is matched by an increase in arc current up to the maximum rating of the power supply unit. The METCO Type RP power supply is rated at 600amp maximum and is designed to provide a continuous output of 500amp. This gives deposit rates per 0.001in. of coating thickness equal to 1260 sq ft/hr for alloy or stainlesssteel coatings, 840 sq ft/hr for bronzes, 1080 sq ft/hr for carbon steels, 2380 sq ft /hr for zinc and 1270 sq ft/hr for aluminium. Since two wires are fed into the spray gun to form the arc. two different types of wire may be used to form a "pseudo-alloy" of materials that cannot otherwise be alloyed together. Made by METCO Ltd, Chobham, Woking.