keeping them running
23rd July 1971
Page 53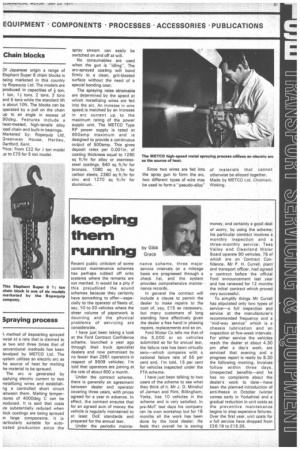 Page 53, 23rd July 1971 —
keeping them running
Close
by Gibb Grace Recent public criticism of some contract maintenance schemes has perhaps rubbed off onto systems where the remarks are not merited. It would be a pity if this prejudiced the sound schemes because they certainly have something to offer—especially to the operator of fleets of, say, 10 to 20 vehicles where the sheer volume of paperwork is daunting and the physical problems of servicing are considerable.
I have just been taking a look at the Ford Contract Confidence scheme, launched a year ago through their truck specialist dealers and now patronized by no fewer than 2951 operators in respect of 9509 vehicles. I'm told that operators are joining at the rate of about 600 a month.
Under the contract scheme, there is generally an agreement between dealer and operator covering three years, with prices agreed for a year in advance. In effect, the contract ensures that for an agreed sum of money the vehicle is regularly maintained to at least DoE standards and prepared for the annual test.
Under the periodic mainte nance scheme, three major service intervals on a mileage basis are progressed through a check list, and the system provides comprehensive maintenance records.
In general the contract will include a clause to permit the dealer to make repairs to the .cost of, say, £15 as necessary, but many customers of long standing have effectively given the dealer a free hand in phasing repairs, replacements and so on.
Ford Motor Co tells me that of the 5,000 or so vehicles submitted so far for annual test, the failure rate has been virtually zero—which compares with a national failure rate of 55 per cent and, I'm told, 15 per cent for vehicles inspected under the FTA scheme.
I have just been talking to two users of the scheme to see what they think of it. Mr J. D. Minshul of Jarman and Flint, Billingham, Yorks, has 10 vehicles in the scheme and is very satisfied. In pre-MoT test days his company ran its own workshop but for 18 months all the work has been done by the local dealer. He feels that overall he is saving money, and certainly a good deal of worry, by using the scheme; his particular contract involves a monthly inspection and a three-monthly service. Tees Valley and Cleavland Water Board operate 90 vehicles, 78 of which are on Contract Confidence. Mr P. H. Currell, plant and transport officer, had agreed a contract before the official Ford announcement last year and has renewed for 12 months the initial contract which proved very successful.
To simplify things Mr Currell has stipulated only two types of service—a full inspection and service at the manufacturer's recommended frequency and a "mid-way service" which is a chassis lubrication and an inspection at five-week intervals. For either service the vehicles reach the dealer at about 4.30 pm after a day's work, are serviced that evening and a progress report is ready by 8.30 the following morning. Invoices follow within three days. Unexpected benefits—and he has no complaints about the dealer's work to date—have been the planned introduction of anti-freeze in October (winter comes early in Yorkshire) and a gradual reduction in unit costs as the preventive maintenance begins to stop expensive failures. Over the first year, unit costs for a full service have dropped from £26.19 to £15.35.