Pneumatic signal indicators
23rd July 1971
Page 52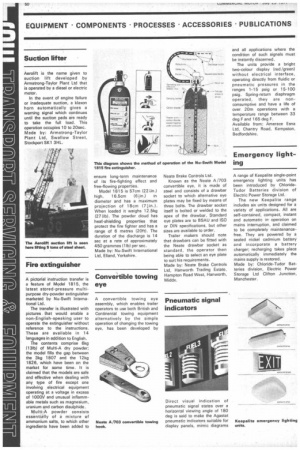 Page 52, 23rd July 1971 —
Pneumatic signal indicators
Close
Direct visual indication of pneumatic signal states over a horizontal viewing angle of 180 deg is said to make the Agastat pneumatic indicators suitable for display panels, mimic diagrams and all applications where the condition of such signals must be instantly discerned.
The units provide a bright two-colour display (red /green) without electrical interface, operating directly from fluidic or pneumatic pressures in the ranges 1-15 psig or 15-100 psig. Spring-return diaphragm operated, they are nonconsumptive and have a life of over 20m operations with a temperature range between 33 deg F and 165 deg F.
Available from: Amerace Esna Ltd, Chantry Road, Kempston, Bedfordshire.