Fire extinguisher
23rd July 1971
Page 52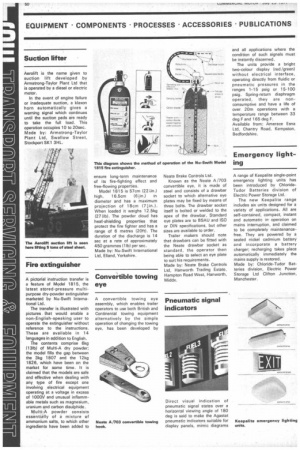 Page 52, 23rd July 1971 —
Fire extinguisher
Close
A pictorial instruction transfer is a feature of Model 1815, the latest stored-pressure multipurpose dry-powder extinguisher marketed by Nu-Swift International Ltd.
The transfer is illustrated with pictures that would enable a non-English-speaking user to operate the extinguisher without reference to the instructions. These are available in 14 languages in addition to English.
The contents comprise 6kg (131b) of Multi-A dry powder; the model fills the gap between the 3kg 1807 and the 12kg 1826, which have been on the market for some time. It is claimed that the models are safe and effective when dealing with any type of fire except one involving electrical equipment operating at a voltage in excess of 1000V and unusual inflammable metals such as magnesium, uranium and carbon disulphide.
Multi-A powder consists essentially of a mixture of ammonium salts, to which other ingredients have been added to ensure long-term maintenance of its fire-fighting effect and free-flowing properties.
Model 1815 is 57cm (22 tin.) high, 16.5cm (6bn.) in diameter and has a maximum projection of 18cm (7 When loaded it weighs 12.5kg (27!.1131. The powder cloud has heat-shielding properties that protect the fire fighter and has a range of 6 metres (20ft). The duration of the discharge is 14 sec at a rate of approximately 450 grammes (11b) per sec.
Made by: Nu-Swift International Ltd, Elland, Yorkshire.