Warning lamp
23rd July 1971
Page 51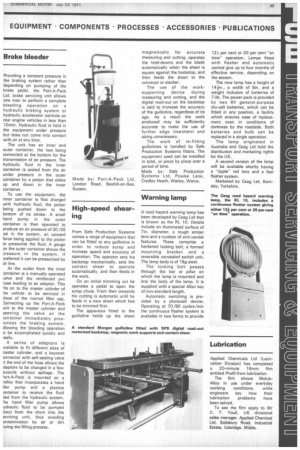 Page 51, 23rd July 1971 —
Warning lamp
Close
A road hazard warning lamp has been developed by Ceag Ltd that is known as the RL 10. Details include an illuminated surface of 7in. diameter, a tough amber lens and a number of anti-vandal features. These comprise a hardened locking bolt, a formed mounting bracket and a reversible concealed switch unit. The lamp body is of 18g steel.
The locking bolt passes through the bar or pillar on which the lamp is mounted and into the body of the lamp. It is supplied with a special Allen key of non-standard length.
Automatic switching is provided by a photocell device. Operating at 70/90 cycles /min the continuous flasher system is available in two forms to provide
12.-; per cent or 20 per cent "on timeoperation. Lamps fitteo with flasher and automatic control give up to four months of effective service, depending on the season.
The new lamp has a height of 14+in., a width of Bin. and a weight inclusive of batteries of 7-1-1b. The power pack is provided by two 6V general-purpose dry-cell batteries, which can be fitted in any position, a facility which ensures ease of replacement even in conditions of darkness by the roadside. Both batteries and bulb can be replaced in a single operation.
The lamp originated in Australia and Ceag Ltd hold the distribution and marketing rights for the UK.
A second version of the lamp will be available shortly having a "ripple" red lens and a fast flasher system.
Marketed by Ceag Ltd, Barnsley, Yorkshire