High-speed shearing
23rd July 1971
Page 51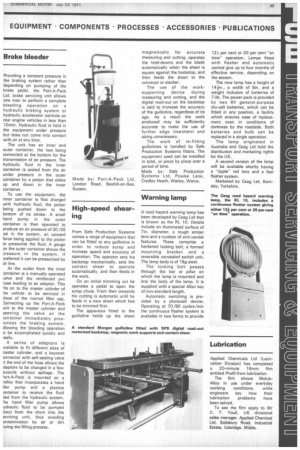 Page 51, 23rd July 1971 —
High-speed shearing
Close
From Safe Production Systems comes a range of equipment that can be fitted to any guillotine in order to reduce scrap and increase speed and accuracy of operation. The operator sets his backstop mechanically, sets the contact shear to operate automatically, and then feeds in the work.
On an initial trimming cut he operates a pedal to open the scrap chute. From then onwards his cutting is automatic until he feeds in a new sheet which has to be trimmed first.
The apparatus fitted to the guillotine holds up the sheet magnetically for accurate measuring and cutting, operates the hold-downs and the blade automatically when the sheet is square against the backstop, and then feeds the sheet to the conveyor or stacker.
The use of the work supporting device during measuring and cutting, and the digital read-out on the backstop is said to increase the accuracy of the guillotine, regardless of its age. As a result the work produced may be sufficiently accurate to make the use of further edge treatment and sizing unnecessary.
The work of re-fitting guillotines is handled by Safe Production Systems fitters. The equipment used can be installed in total, or piece by piece over a period of time.
Made by: Safe Production Systems Ltd, Powke Lane, Cradley Heath, Warley, Worcs.