the common room
23rd July 1971
Page 47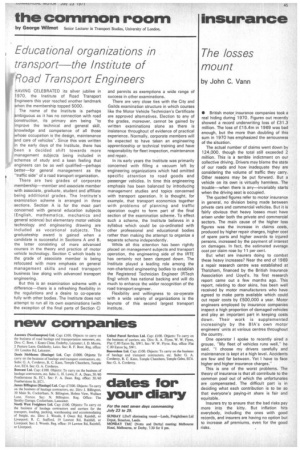 Page 47, 23rd July 1971 —
the common room
Close
by George Wilmot Senior Lecturer in Transport Studies, University of London.
Educational organizations in transport the Institute of Road Transport Engineers
HAVING CELEBRATED its silver jubilee in 1970, the Institute of Road Transport Engineers this year reached another landmark when the membership topped 5000.
The name of the Institute is perhaps ambiguous as it has no connection with road construction, its primary aim being "to improve the technical and general skill, knowledge and competence of all those whose occupation is the design, maintenance and care of vehicles". Since this was written in the early days of the Institute, there has been a decided shift towards more management subjects being included in schemes of study and a keen feeling that engineers can be as well qualified—perhaps better—for general management as the "traffic side" of a road transport organization.
There are two grades of corporate membership—member and associate member with associate, graduate, student and affiliate being additional grades. The Institute's examination scheme is arranged in three sections. Section A is for the most part concerned with general education subjects (English, mathematics, mechanics and general science) but elementary motor vehicle technology and engineering drawing are included as vocational subjects, The graduateship award is gained when a candidate is successful in Sections A and B, the latter consisting of more advanced courses in the theory and practice of motor vehicle technology. Section C which leads to the grade of associate member is being refocused with more emphasis on general management skills and road transport business law along with advanced transport engineering.
But this is an examination scheme with a difference-there is a refreshing flexibility in the regulations and a desire to co-operate fully with other bodies. The Institute does not attempt to run all its own examinations (with the exception of the final parts of Section Cl and permits as exemptions a wide range of success in other examinations, There are very close ties with the City and Guilds examination structure in which courses like the Motor Vehicle Technician's Certificate are approved alternatives. Election to any of the grades, moreover, cannot be gained by written examinations alone as there is insistence throughout of evidence of practical experience. Normally, corporate members will be expected to have taken an engineering apprenticeship or technical training and have responsibility for fleet inspection, maintenance and repair.
In its early years the Institute was primarily concerned with filling a vacuum left by engineering organizations which had omitted specific attention to road goods and passenger vehicles. In time this engineering emphasis has been balanced by introducing management studies and topics concerned with transport operation. It is thought, for example, that transport economics together with problems of planning and traffic operation ought to form part of the final section of the examination scheme. To effect such a scheme, the Institute believes in a syllabus which could be co-ordinated with other professional and educational bodies rather than making the attempt to organize a separate scheme independently.
While all this attention has been rightly placed on management subjects and transport operation, the engineering side of the IRTE has certainly not been damped down. The Institute played a leading role among the non-chartered engineering bodies to establish the Registered Technician Engineer IRTech Eng) which has national backing and will do much to enhance the wider recognition of the road transport engineer.
Flexibility and willingness to co-operate with a wide variety of organizations is the keynote of this second largest transport institute,