insurance
23rd July 1971
Page 47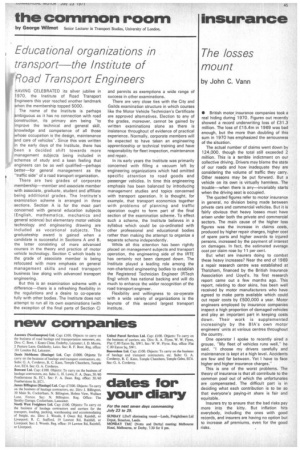 Page 47, 23rd July 1971 —
insurance
Close
The losses mount
by John C. Vann
• British motor insurance companies took a real hiding during 1970. Figures out recently showed a record underwriting loss of £31.3 million. The loss of £15.4m in 1969 was bad enough, but the more than doubling of this sum in 1970 has emphasized the seriousness of the situation.
The actual number of claims went down by 124,000, though the total still exceeded 2 million. This is a terrible indictment on our collective driving. Drivers may blame the state of our roads and how inadequate they are considering the volume of traffic they carry. Other reasons may be put forward. But a vehicle on its own is virtually harmless. The trouble—when there is any—invariably starts when the driving seat is occupied.
The quoted figures refer to motor insurance in general, no division being made between private cars and commercial vehicles. But it is fairly obvious that heavy losses must have arisen under both the private and commercial sectors, The main cause of the higher loss figures was the increase in claims costs, produced by higher repair charges, higher cost of spare parts and higher awards to injured persons, increased by the payment of interest on damages. In fact, the estimated average cost per claim rose by 11 per cent.
But what are insurers doing to combat these heavy increases? Near the end of 1969 a repair research centre was established at Thatcham, financed by the British Insurance Association and Lloyd's. Its first research report came out a few months ago. This report, relating to door skins, has been well received by motor manufacturers who have agreed to make parts available which could cut repair costs by £500,000 a year. Motor engineers employed by insurance companies inspect a high proportion of damaged vehicles and play an important part in keeping costs down. Their work is supplemented increasingly by the BIA's own motor engineers' units at various centres throughout the country.
One operator I spoke to recently aired a grouse. "My fleet of vehicles runs well." he said. "I choose my drivers carefully and maintenance is kept at a high level. Accidents are few and far between. Yet I have to face higher and higher insurance charges.
This is one of the worst problems. The theory of insurance is that all contribute to the common pool out of which the unfortunates are compensated. The difficult part is in deciding what each contribution is to be so that everyone's paying-in share is fair and equitable.
Insurers try to ensure that the bad risks pay more into the kitty. But inflation hits everybody, including the ones with good records, and insurers are having no option but to increase all premiums, even for the good risks.