management matters
23rd July 1971
Page 45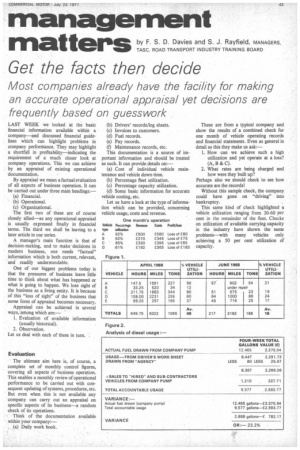 Page 46
Page 45, 23rd July 1971 —
management matters
Close
by F. S. D. Davies and S. J. Rayfield, MANAGERS, TASC, ROAD TRANSPORT INDUSTRY TRAINING BOARD
Get the facts then decide
LAST WEEK we looked at the basic financial information available within a company—and discussed financial guidelines which can highlight problems in company performance. They may highlight a shortfall in profitability—indicating the requirement of a much closer look at company operations. This we can achieve by an appraisal of existing operational documentation.
By appraisal we mean a factual evaluation of all aspects of business operation. It can be carried out under three main headings:—
(a) Financial.
(b) Operational.
(c) Organizational.
The first two of these are of course closely allied—as any operational appraisal is usually expressed finally in financial terms. The third we shall be leaving to a later article in our series.
A manager's main function is that of decision-making, and to make -decisions in modern business, one needs "factual" information which is both current, relevant, and readily understandable.
One of our biggest problems today is that the pressures of business leave little time to think about what has happened or what is going to happen. We lose sight of the business as a living entity. It is because of this "loss of sight" of the business that some form of appraisal becomes necessary.
Appraisal can be achieved in several ways, among which are; 1. Evaluation of available information (usually historical), 2. Observation.
Let us deal with each of these in turn.
Evaluation
The ultimate aim here is, of course, a complete set of monthly control figures, covering all aspects of business operation. This enables a monthly review of operational performance to be carried out with consequent updating of systems, procedures, etc. But even when this is not available any company can carry out an appraisal on specific aspects of its business—a random check of its operations.
Think of the documentation available within your company:—
(a) Daily work book. (b) Drivers' records/log sheets.
(c) Invoices to customers.
(d) Fuel records.
(e) Pay records.
(f) Maintenance records, etc.
This documentation is a source of important information and should be treated as such. It can provide details on:—
(a) Cost of individual vehicle maintenance and vehicle down-time.
(b) Percentage fleet utilization.
(c) Percentage capacity utilization.
(d) Some basic information for accurate vehicle costing. etc.
Let us have a look at the type of information which can be provided, concerning vehicle usage, costs and revenue. These are from a typical company and show the results of a combined check for one month of vehicle operating records and financial statements. Even as general in detail as this they make us ask: 1. How can we achieve such a high utilization and yet operate at a loss? (A, B & C).
2. What rates are being charged and how were they built up?
Perhaps also we should check to see how accurate are the records!
Without this sample check, the company could have gone on "driving" into bankruptcy.
This same kind of check highlighted a vehicle utilization ranging from 30-60 per cent in the remainder of the fleet. Checks on utilization of available carrying capacity in the industry have shown the same problems—with many vehicles only achieving a 50 per cent utilization of capacity. The forms we use for our appraisal could collect information under such headings as: vehicle no; days available; days used; reasons—not used reasons for nonavailable; total cap available; total cap charged out.
Let us look at the set of results on page 43. A set of fleet utilization figures, produced from information available within the company, for two months. Questions which come quickly to mind:—
(a) Highest average utilization figure is 49 p.c.—any marketing going on?
(b) Seasonal work?-0r why such a large drop in utilization. These will lead to an assessment of the possibility of obtaining other traffic, or a reduction in fleet size, etc.
Many companies are unsure of the details of diesel usage within their company. In one company results of an appraisal appeared as in figure 2.
An interesting result and one which can be achieved by the production of a simple form.
At the beginning we mentioned appraisal by "observation", and one method which we have found to be of great help is that of activity sampling. This is a simple technique but we do not have space here to describe how it should be carried out. However, we would like to show you a set of results obtained by the use of this technique.
It is simply a way of measuring the percentages of various activities and inactivities occurring within a company, to a given degree of accuracy—in this case in the workshop of a road haulier:—
If we accept that all the activities in Productive and Supporting work are acceptable and necessary—then the important sector is that of Non-Productive.
Included in this figure of 32% are:—
A. Not in area 4% B. Not working 9% C. Breaks 10% D. Absent 9%
Again, analysis of the results must be carefully carried out, but some questions are perhaps obvious:—
(a) Not working—was work available?
(b) Absent—what form of control is there?
(c) How effective is the scheduling of labour?
In this particular company, total hours available were 360—and if we accept "10 per cent breaks" as personal requirements— that leaves 22 per cent of 360 hours lost to the company in one month. An expensive discovery! (About 79 man-hours producing nothing each week.) [Next week—a step further to accurate identification by the production of costing information.]