Q Whenever I drive on a long haul near
23rd July 1971
Page 44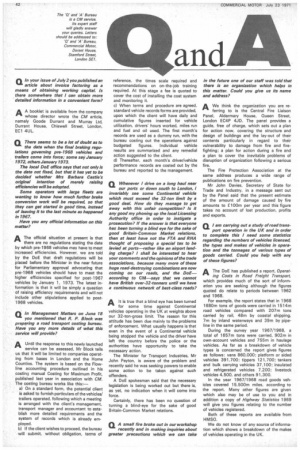 Page 44, 23rd July 1971 —
Q Whenever I drive on a long haul near
Close
our ports or down south to London. I invariably see some Continental vehicle which must exceed the 32-ton limit by a good deal. How do they manage to get away with this unfair competition? Is it any good my phoning up the local Licensing Authority office in order to instigate a prosecution? If the answer is that everyone has been turning a blind eye for the sake of good Britain-Common Market relations, then at least have not the PTA and RHA thought of proposing a special tax to be levied at ports—rather like an airport landing charge? I shall be interested to hear your comments and the opinions of the trade associations, because many more of these huge road-destroying combinations are now coming on our roads, and the DoE— according to CM—says that we cannot have British over-32-tonners until we have a continuous network of best-class roads?
A It is true that a blind eye has been turned
for some time against Continental vehicles operating in the UK at weights above our 32-ton-gross limit. The reason for this attitude has been due mainly to the problems of enforcement. What usually happens is that even in the event of a Continental vehicle being stobped the vehicle and the driver have left the country before the police or the authorities have opportunity to take the necessary action.
The Minister for Transport Industries, Mr John Peyton, is aware of the problem and recently said he was seeking powers to enable some action to be taken against such offenders.
A DoE spokesman said that the necessary legislation is being worked out but there is, as yet, no indication when it will come into force.
Certainly, there has been no question of turning a blind-eye for the sake of good Britain-Common Market relations.