Q In Management Matters on June 18
23rd July 1971
Page 44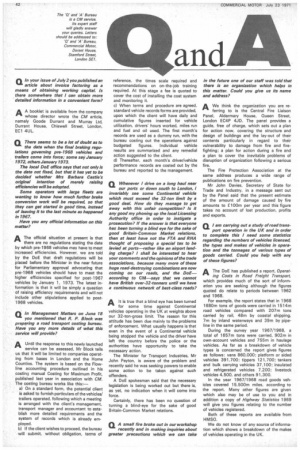 Page 44, 23rd July 1971 —
Q In Management Matters on June 18
Close
you mentioned that R. P. Block was preparing a road transport costing bureau. Have you any more details of what this service will provide?
AUntil the response to this newly launched service can be assessed, Mr Block tells us that it will be limited to companies operating from bases in London and the Home Counties. The system is based on the Flowline accounting procedure outlined in his costing manual Costing for Maximum Profit, published last year in association with CM. The costing bureau works like this:—
a) On a standard form, the potential client is asked to furnish particulars of the vehicles/ trailers operated. following which a meeting is arranged with the client's management, transport manager and accountant to establish more detailed requirements and the system of records which is already employed.
b) If the client wishes to proceed, the bureau will submit, without obligation, terms of reference, the times scale required and recommendations on on-the-job training required. At this stage a fee is quoted to cover the cost of installing the cost system and monitoring it.
c) When terms and procedure are agreed, standard vehicle records forms are provided, upon which the client will have daily and cumulative figures inserted for vehicle utilization, drivers' hours worked, miles run and fuel and oil used The first month's records are used as a dummy run, with the bureau costing out the operations against budgeted figures. Individual vehicle results are summarized and any remedial action suggested to the client.
di Thereafter, each month's driver/vehicle performance records are costed out by the bureau and reported to the management.