Q A small fire broke out in our workshop recently and in making inquiries about greater precautions which we can take
23rd July 1971
Page 44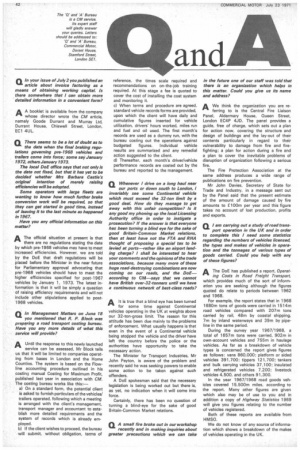 Page 44, 23rd July 1971 —
Q A small fire broke out in our workshop recently and in making inquiries about greater precautions which we can take
Close
in the future one of our staff was told that there is an organization which helps in this matter. Could you give us its name and address?
AWe think the organization you are re
ferring to is the Central Fire Liaison Panel, Aldermary House, Queen Street. London EC4P 4JD. The panel provides a guide, free of charge, which sets out a plan for action now, covering the structure and design of buildings and the lay-out of their contents particularly in regard to their vulnerability to damage from fire and firefighting; a plan for action during a fire and a plan to cover the inevitable problems of disruption of organization following a serious fire.
The Fire Protection Association at the same address produces a wide range of publications on fire prevention.
Mr John Davies, Secretary of State for Trade and Industry, in a message sent out by the Panel said that the present estimate of the amount of damage caused by fire amounts to £100m per year and this figure takes no account of lost production, profits and exports.