/ am carrying out a study of road trans
23rd July 1971
Page 44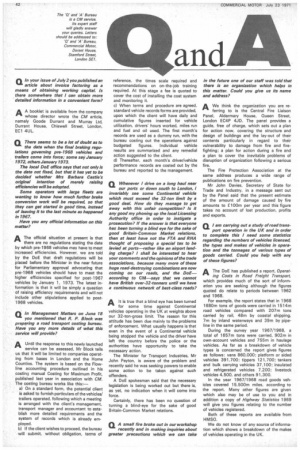 Page 44, 23rd July 1971 —
/ am carrying out a study of road trans
Close
port operation in the L1K and in order to complete this I need some statistics regarding the numbers of vehicles licensed, the types and makes of vehicles in operation and the tonnages of various types of goods carried. Could you help with any of these figures?
AThe DoE has published a report, Operat
ing Costs in Road Freight Transport, which provides much of the sort of information you are seeking although the figures quoted do relate to periods between 1962 and 1963.
For example, the report states that in 1968 1680m tons of goods were carried in 1514m road vehicles compared with 207m tons carried by rail, 48m by coastal shipping, 7m by inland waterways and 39m by pipeline in the same period.
During the survey year 1967/1968, a total of 1657m tons were carved, 902m in own-account vehicles and 765m in haulage vehicles. As far as a breakdown of vehicle types is concerned the report gives figures as follows: vans 860,000; platform or sided vehicles 391,700; tippers 121,700; tankers and bulk carrying vehicles 37,100; insulated and refrigerated vehicles 7,200; livestock vehicles 4.500, and others 91,300.
In the year 1967/1968 road goods vehicles covered 15.500m miles, according to the report. Many other figures are given which also may be of use to you and in addition a copy of Highway Statistics 1969 will give you figures relating to the number of vehicles registered.
Both of these reports are available from HMSO.
We do not know of any source of information which shows a breakdown of the makes of vehicles operating in the UK.