Transport shake-up
23rd July 1971
Page 41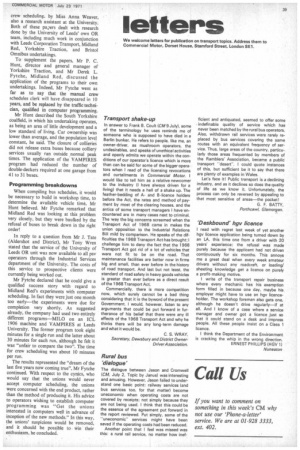 Page 41, 23rd July 1971 —
Transport shake-up
Close
In answer to Frank B. Coult (CM 9 July), some of the terminology he uses reminds me of someone who is supposed to have died in a Berlin bunker. He refers to people, like roe, an owner-driver, as mushroom operators, the undesirables, and speaks of unethical activities and openly admits we operate within the conditions of our operator's licence which is more than can be said for some of the bigger operators when I read of the licensing revocations and curtailments in Commercial Motor. I would like to tell him as a relative newcomer to the industry (I have always driven for a living) that it needs a hell of a shake up. The feather-bedding of Aand B-licence holders before the Act, the rates and method of payment by most of the clearing houses, and the antics of some transport managers I have encountered are in many cases next to criminal. The way the big concerns screamed when the Transport Act of 1968 came in makes the union opposition to the Industrial Relations Bill mild by comparison. He speaks of the difficulties the 1968 Transport Act has brought; I challenge him to deny the fact that the 1968 Transport Act got rid of a lot of vehicles that were not fit to be on the road. That maintenance facilities are better now in firms big and small, than ever before in the history of road transport. And last but not least. the standard of road safety in heavy goods vehicles is greater than ever before as a direct result of the 1968 Transport Act.
Commercially, there is more competition now, which surely cannot be a bad thing considering that it is the byword of the present Government. I would, however, listen to any arguments that could be put forward in furtherance of his belief that there were any ill effects of the 1968 Transport Act and why he thinks there will be any long-term damage and what it would be.
C. S. WRAY, Secretary, Dewsbury and District Owner Driver Association.