bird's eye view by the Hawk
23rd July 1971
Page 35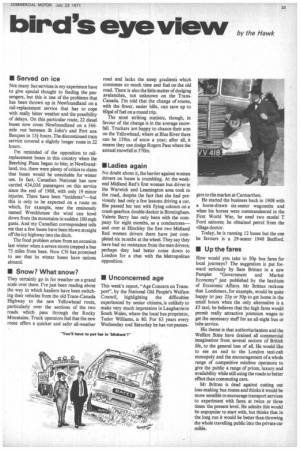 Page 35, 23rd July 1971 —
bird's eye view by the Hawk
Close
• Served on ice
Not many bus services in my experience have to give special thought to feeding the passengers, but this is one of the problems that has been thrown up in Newfoundland on a rail-replacement service that has to cope with really bitter weather and the possibility of delays. On this particular route, 22 diesel buses now cross Newfoundland on a 566mile run between St John's and Port aux Basques in 13+ hours. The discontinued train service covered a slightly longer route in 22 hours.
Fm reminded of the opposition to railreplacement buses in this country when the Beeching Plans began to bite; in Newfoundland, too, there were plenty of critics to claim that buses would be unsuitable for winter use. In fact, Canadian National has now carried 434,036 passengers on this service since the end of 1968, with only 19 minor injuries. There have been "incidents"—but this is only to be expected on a route on which, for example, near the ominously named Wreckhouse the wind can howl down from the mountains in sudden 100 mph gusts. And my Canadian correspondent tells me that a few buses have been blown straight off the icy highway into the ditch.
The food problem arises from an occasion last winter when a severe storm trapped a bus 75 miles from base. Now CN has promised to see that its winter buses have rations aboard.
• Snow? What snow?
They certainly go in for weather on a grand scale over there. I've just been reading about the way in which hauliers have been switching their vehicles from the old Trans-Canada Highway to the new Yell owhead route, particularly over the sections of the two roads which pass through the Rocky Mountains. Truck operators feel that the new route offers a quicker and safer all-weather road and lacks the steep gradients which consumes so much time and fuel on the old road. There is also the little matter of dodging avalanches, not unknown on the TransCanada. I'm told that the change of routes, with the fewer, easier hills, can save up to 60gal of fuel on a round trip.
The most striking statistic, though, in favour of the change is in the average snowfall. Truckers are happy to chance their arm on the Yellowhead, where at Blue River there can be I59in. of snow a year; after all, it means they can dodge Rogers Pass where the annual snowfall is 370in.
• Ladies again
No doubt about it, the barrier against women drivers on buses is crumbling. At the weekend Midland Red's first woman bus driver in the Warwick and Leamington area took to the road, despite the fact that she had previously had only a few lessons driving a car. She passed her test with flying colours on a crash-gearbox double-decker in Birmingham. Valerie Berry has only been with the company for eight months, as a conductress— and over at Hinckley the first two Midland Red women drivers there have just completed six months at the wheel. They say they have had no resistance from the men drivers; perhaps they had better come down to London for a chat with the Metropolitan opposition.
• Unconcerned age
This week's report, "Age Concern on Transport", by the National Old People's Welfare Council, highlighting the difficulties experienced by senior citizens, is unlikely to make very much impression in Laugharne in South Wales, where the local bus proprietor, Tudor Williams, is 80. For 63 years every Wednesday and Saturday he has run passen gers to the market at Carmarthen.
He started the business back in 1908 with a horse-drawn six-seater wagonette and when his horses were commandeered in the First World War, he used two model T Ford saloons; he obtained petrol from the village doctor.
Today, he is running 12 buses but the one he favours is a 29-seater 1948 Bedford.
• Up the fares
How would you take to 50p bus fares for local journeys? The suggestion is put forward seriously by Sam Brittan in a new Pamplet "Government and Market Economy" just published by the Institute of Economic Affairs. Mr Brittan reckons that Londoners, for example, would be quite happy to pay 25p or 50p to get home in the small hours when the only alternative is a £5 taxi; he believes that the high fares would permit really attractive premium wages to get the necessary staff for an all-night bus or tube service.
His theme is that authoritarianism and the Welfare State have drained all commercial imagination from, several sectors of British life, to the general loss of all. He would like to see an end to the London taxi-cab monopoly and the encouragement of a whole range of competitive minibus operators to give the public a range of prices, luxury and availability while still using the roads to better effect than commuting cars.
Mr Brittan is dead against cutting out loss-making bus routes and thinks it would be more sensible to encourage transport services to experiment with fares at twice or three times the present level. He admits this would be unpopular to start with, but thinks that in the long run it would be better than throwing the whole travelling public into the private car melee.