Vanguard 747 is new max capacity van from CF
23rd July 1971
Page 28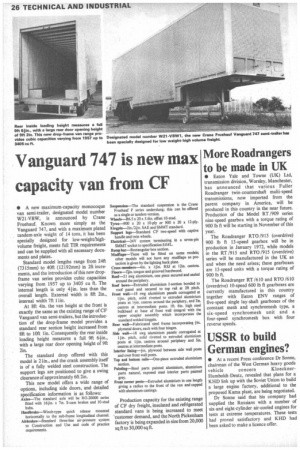 Page 28, 23rd July 1971 —
Vanguard 747 is new max capacity van from CF
Close
• A new maximum-capacity monocoque van semi-trailer, designated model number W21-VBW, is announced by Crane Fruehauf. Known more simply as the Vanguard 747, and with a maximum plated tandem-axle weight of 14 tons, it has been specially designed for low-weight/highvolume freight, meets full TIR requirements and can be supplied with all necessary documents and plates.
Standard model lengths range from 2411 (7315mm) to 40ft (12192mm) in 2ft increments, and the introduction of this new dropframe van series provides cubic capacities varying from 1957 up to 3405 cu ft. The internal length is only 4-in. less than the overall length, External width is 8ft 2in., internal width 7ft 1 lin.
At 8ft 4in. the van height at the front is exactly the same as the existing range of CF Vanguard van semi-trailers, but the introduction of the drop-frame model provides a standard rear section height increased from 8ft to 10ft lin. Consequently the rear inside loading height measures a full 911 6+in., with a large rear door opening height of 911 2in.
The standard drop offered with this model is 21in., and the crank assembly itself is of a fully welded steel construction. The support legs are positioned to give a swing clearance of approximately 611 2in.
This new model offers a wide range of options, including side doors, and detailed specification information is as follows:
Axles—The standard axle will be R0.20000 series fitted with 16-lin. x 7in. S-cam brakes and 10-stud hubs.
Handbrake—Winch-type quick release mounted horizontally to the sub-frame longitudinal channel.
Alrbrakes—Standard three-line air-pressure system to Construction and Use and code of practice requirements. Suspension—The standard suspension is the Crane Fruehauf F series underslung; this can be offered as a single or tandem version.
Wheels—B6.5 x 20 x 5.6in. offset 10-stud.
Tyres-900 x 20 x 10-ply or 900 x 20 x 12-ply. Kingpin-2in.i2in. SAE and SMMT standard.
Support legs—Standard CF two-speed with captive handle and twin wheels.
Electrical-24V system terminating in a seven-pin SMMT socket to specification EE4L.
Bump bar—Rectangular box section.
Mudflaps—These will be fitted on some models; other models will not have any mudflaps as pro tection is given by the lighting hack plate. Cross-members-4in. it 1in, RS.1 at 12in. centres. Floors—Ilin. tongue and grooved hardwood.
Roof-21 swg aluminium, one piece secured and sealed around the periphery.
Roof bows—Extruded aluminium I-section bonded to roof panel and secured to top rail at 2ft pitch.
Front wall-18 swg aluminium panels corrugated at 1 lin. pitch, solid rivetted to extruded aluminium posts at 1-1-in. centres around the periphery, and 3in. centres at intermediate posts. 1ft. 6in. high steel bulkhead at base of front wall integral with the upper coupler assembly which incorporates the standard welded kingpin.
Rear wall—Fabricated steel frame incorporating +in. plymetal doors, each with four hinges.
Side wall— 18 swg aluminium panels corrugated at 1 tin. pitch, solid rivetted to extruded aluminium posts at 14-in. centres around periphery and 3in. centres at intermediate posts.
Interior lining--tin. plywood between side wall posts and over front wall posts.
Top Itad bottom rails—One-piece extruded aluminium section.
Painting—Steel parts painted aluminium, aluminium parts natural, exposed steel interior parts painted grey.
Front corner posts—Extruded aluminium in one length giving a radius to the front of the van and capped with aluminium castings.
Production capacity for the existing range of CF dry freight, insulated and refrigerated standard vans is being increased to meet customer demand, and the North Pickenham factory is being expanded in size from 20,000 sq ft to 30,000 sq ft.