Application refused, then licence suspended
23rd July 1971
Page 27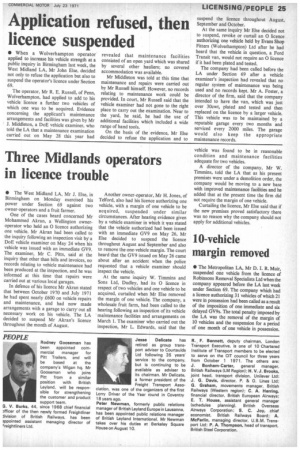 Page 27, 23rd July 1971 —
Application refused, then licence suspended
Close
Keywords :
• When a Wolverhampton operator applied to increase his vehicle strength at a public inquiry in Birmingham last week, the West Midland LA, Mr John Else, decided not only to refuse the application but also to suspend the operator's licence under Section 69.
The operator, Mr R. E. Russell. of Penn, Wolverhampton, had applied to add to his vehicle licence a further two vehicles of which one was to be acquired. Evidence concerning the applicant's maintenance arrangements and facilities was given by Mr J. Middleton, a DoE vehicle examiner, who told the LA that a maintenance examination carried out on May 28 this year had revealed that maintenance facilities consisted of an open yard which was shared by several other hauliers: no covered accommodation was available.
Mr Middleton was told at this time that maintenance and repairs were carried out by Mr Russell himself. However, no records relating to maintenance work could be provided. In court, Mr Russell said that the vehicle examiner had not gone to the right place to carry out the examination. Near to the yard. he said, he had the use of additional facilities which included a wide range of hand tools.
On the basis of the evidence, Mr Else decided to refuse the application and to suspend the licence throughout August, September and October.
At the same inquiry Mr Else decided not to suspend, revoke or curtail an 0 licence authorizing one vehicle held by Evans Shop Fitters (Wolverhampton) Ltd after he had heard that the vehicle in question. a Ford Transit van, would not require an 0 licence if it had been plated and tested.
The company had been called before the LA under Section 69 after a vehicle examiner's inspection had revealed that no regular system of maintenance was being used and no records kept. Mr A. Foster, a director of the firm, said that the company intended to have the van, which was just over 30cwt, plated and tested and then replaced on the licence by a larger vehicle. This vehicle was to be maintained by a reputable garage every two months and serviced every 2000 miles. The garage would also keep the appropriate maintenance records.