Police-held trailers deteriorating
23rd July 1971
Page 19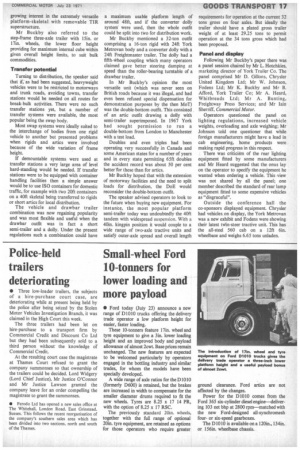 Page 19, 23rd July 1971 —
Police-held trailers deteriorating
Close
• Three low-loader trailers, the subjects of a hire-purchase court case. are deteriorating while at present being held by the police after being seized by the Stolen Motor Vehicles Investigation Branch, it was claimed in the High Court this week.
The three trailers had been let on hire-purchase to a transport firm by Commercial Credit and Discount Co Ltd but they had been subsequently sold to a third person without the knowledge of Commercial Credit.
At the resulting court case the magistrate at Thames Court refused to grant the company summonses so that ownership of the trailers could be decided. Lord Widgery (Lord Chief Justice), Mr Justice O'Connor and Mr Justice Lawson granted the company leave for an order compelling the magistrate to grant the summonses.
• Ferodo Ltd has opened a new sales office at The Whitehall. London Road, East Grinstead. Sussex. This follows the recent reorganisation of the company's southern sales area which has been divided into two sections. north and south of the Thames.