• Uncertainty about new vehicle weights
23rd July 1971
Page 18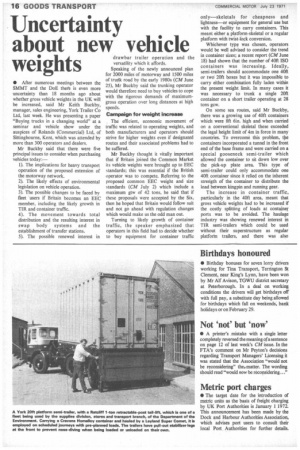 Page 19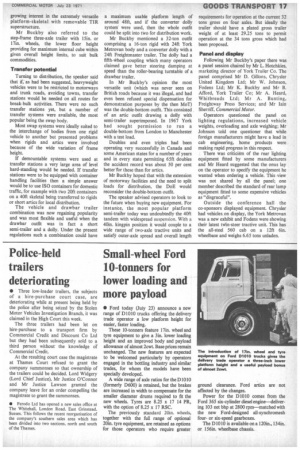 Page 18, 23rd July 1971 —
• Uncertainty about new vehicle weights
Close
• After numerous meetings between the SMMT and the DoE thee is even more uncertainty than 18 months ago about whether gross vehicle weights in the UK will be increased, said Mr Keith Buckby, manager, sales engineering, York Trailer Co Ltd, last week. He was presenting a paper "Buying trucks in a changing world" at a seminar and vehicle show under the auspices of Rolands (Commercial) Ltd, of Sittingbourne, Kent, which was attended by more than 300 operators and dealers.
Mr Buckby said that there were five principal issues to consider when purchasing vehicles today: 1). The implications for heavy transport operation of the proposed extension of the motorway network.
2). The likely effects of environmental legislation on vehicle operation.
3). The possible changes to be faced by fleet "users if Britain becomes an EEC member, including the likely growth in TIE. and container traffic.
4). The movement towards total distribution and the resulting interest in swap body systems and the establishment of transfer stations.
5). The possible renewed interest in drawbar trailer operation and the versatility which it affords.
Speaking of the newly announced plan for 2000 miles of motorway and 1500 miles of trunk road by the early 1980s (CM June 25), Mr Buckby said the trunking operator would therefore need to buy vehicles to cope with the rigorous demands of maximumgross operation over long distances at high speeds.
Campaign for weight increase The efficient, economic movement of traffic was related to operating weights, and both manufacturers and operators should strive for higher weights even if designated routes and their associated problems had to he suffered.
Mr Buckby thought it vitally important that if Britain joined the Common Market its vehicle weights were brought up to EEC standards; this was essential if the British operator was to compete. Referring to the proposed common EEC weight and size standards (CM July 2) which include a maximum gtw of 42 tons, he said that if these proposals were accepted by the Six, then he hoped that Britain would follow suit and not go ahead with regulation changes which would make us the odd man out.
Turning to likely growth of container traffic, the speaker emphasized that operators in this field had to decide whether to buy equipment for container traffic only—skeletals for cheapness and lightness—or equipment for general use but with the facility to carry containers. This meant either a platform-skeletal or a regular platform with twist-lock conversion.
Whichever type was chosen, operators would he well advised to consider the trend in container sizes; a recent report (CM June 18) had shown that the number of 40ft ISO containers was increasing. Ideally, semi-trailers should accommodate one 40ft or two 20ft boxes but it was impossible to carry either combination fully laden within the present weight limit. In many cases it was necessary to trunk a single 20ft container on a short trailer operating at 28 tons gcw.
On some sea routes, said Mr Buckby, there was a growing use of 40ft containers which were 8ft 6in. high and when carried on a conventional skeletal these exceeded the legal height limit of 4m in force in many countries. To overcome this problem, the containers incorporated a tunnel in the front end of the base frame and were carried on a special gooseneck semi-trailer which allowed the container to sit down low over the pick-up plate area. This type of semi-trailer could only accommodate one 40ft container since it relied on the inherent strength of the container to distribute the load between kingpin and running gear.
The increase in container traffic, particularly in the 40ft area, meant that gross vehicle weights had to be increased if the costly splitting of loads at container ports was to be avoided. The haulage industry was showing renewed interest in ilk semi-trailers which could be used without their superstructure as regular platforin trailers, and there was also growing interest in the extremely versatile platform-skeletal with removable TIR superstructure.
Mr Buckby also referred to the step-frame three-axle trailer with 15in. or 171n. wheels, the lower floor height providing for maximum internal cube within given overall height limits, to suit bulk commodities.
Transfer potential Turning to distribution, the speaker said that if,' as had been suggested, heavyweight vehicles were to be restricted to motorways and trunk roads, avoiding towns, transfer stations would be needed on all routes for break-bulk activities. There were no such transfer stations yet, but a number of transfer systems were available, the most popular being the swap body.
Most swap systems were ideally suited to the interchange of bodies from one rigid vehicle to another but presented problems when rigids and artics were involved because of the wide variation of frame height.
If demountable systems were used at transfer stations a very large area of level hard-standing would be needed. If transfer stations were to be equipped with container handling facilities then a simple answer would be to use ISO containers for domestic traffic, for example with two 20ft containers on a 40ft skeletal being transferred to rigids or short artics for local distribution.
The vehicle and drawbar trailer combination was now regaining popularity and was most flexible and useful when the drawbar outfit was in fact a short semi-trailer and a dolly. Under the present regulations such a combination could have a maximum usable platform length of around 48ft, and if the converter dolly system were used, then the whole outfit could be split into two for distribution work.
Mr Buckby mentioned a 32-ton outfit comprising a 16-ton rigid with 24ft York Metrovan body and a converter dolly with a 24ft Freightmaster trailer. The dolly had a fifth-Wheel coupling which many operators claimed gave better steering damping at speed than the roller-bearing turntable of a drawbar trailer.
In Mr Buckby's opinion the most versatile unit (which was never seen on British roads because it was illegal, and had even been refused special dispensation for demonstration purposes by the then MoT) was the double-bottom outfit. This consisted of an artic outfit drawing a dolly with semi-trailer superimposed. In 1967 York had sought permission to run a double-bottom from London to Manchester with a test load.
Doubles and even triples had been operating very successfully in Canada and some American states for a number of years and in every state permitting 65ft doubles the accident record was about 50 per cent better'for these than for artics.
Mr Buckby hoped that with the extension of motorway facilities and the need to split loads for distribution, the DoE would reconsider the double-bottom outfit.
The speaker advised operators to look to the future when buying new equipment. For instance, the most popular platform semi-trailer today was undoubtedly the 401t tandem with widespread suspension. With a 40in. kingpin position it would couple to a wide range of two-axle tractive units and satisfy outer-axle spread and overall length requirements for operation at the current 32 tons gross on four axles. But ideally the trailer should have a plated gross trailer weight of at least 29.25 tons to permit operation at the 34 tons gross which had been proposed.
Panel and display
Following Mr Buckby's paper there was a panel session chaired by Mr L. Hotchkies, marketing director of York Trailer Co. The panel comprised Mr D. Gillons, Chrysler United Kingdom Ltd: Mr W. Johnson. Fodens Ltd: Mr K. Buckby and Mr B. Afford, York Trailer Co: Mr A. Heard, Whitbreads Ltd; Mr A. Bunting, Freightway Press Services; and Mr lain Sherrill', Commercial Motor.
Operators questioned the panel on lighting regulations, increased vehicle weights, overloading and axle weighing; Mr Johnson told one questioner that while foreign manufacturers might have a lead in cab engineering, home products were making rapid progress in this respect.
There was criticism of the rear lighting equipment fitted by some manufacturers and Mr Heard suggested that the onus lay on the operator to specify the equipment he wanted when ordering a vehicle. This view was not shared by all the panel: one member described the standard of rear lamp equipment fitted to some expensive vehicles as "disgraceful".
Outside the conference hall the co-sponsors displayed equipment. Chrysler had vehicles on display. the York Metrovan was a new exhibit and Fodens were showing their latest twin-steer tractive unit. This has the all-steel 560 cab on a 12ft 6in. wheelbase and weighs 6.65 tons unladen.