Prosecuted under wrong paragraph
23rd July 1971
Page 17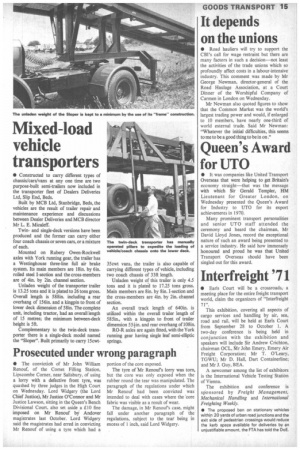 Page 17, 23rd July 1971 —
Prosecuted under wrong paragraph
Close
• The convictioh of Mr John William Renouf, of the Comet Filling Station, Lipscombe Corner, near Salisbury, of using a lorry with a defective front tyre, was quashed by three judges in the High Court on Wednesday. Lord Widgery (the Lord Chief Justice), Mr Justice O'Connor and Mr Justice Lawson, sitting in the Queen's Bench Divisional Court, also set aside a LIO fine imposed on Mr Renouf by Andover magistrates last October. Lord Widgery said the magistrates had erred in convicting Mr Renouf of using a tyre which had a portion of the core exposed.
The tyre of Ur Renouf's lorry was torn, but the core was only exposed when the rubber round the tear was manipulated. The paragraph of the regulations under which Mr Renouf had been convicted was intended to deal with cases where the 'core fabric was visible as a result of wear.
The damage, in Mr Renours case, might fall under another paragraph of the regulations, subject to the teat being in excess of 1 inch, said Lord Widgery.