Mixed-load vehicle transporters
23rd July 1971
Page 17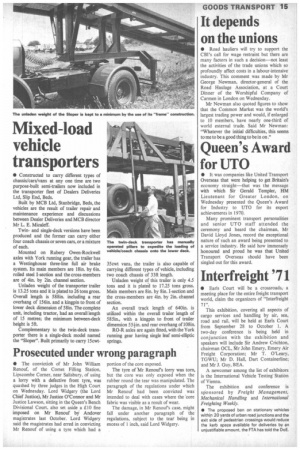 Page 17, 23rd July 1971 —
Mixed-load vehicle transporters
Close
• Constructed to carry different types of chassis/cars/vans at any one time are two purpose-built semi-trailers now included in the transporter fleet of Dealers Deliveries Ltd, Skip End, Beds.
Built by MCB Ltd, Stanbridge, Beds, the vehicles are the result of trailer repair and maintenance experience and discussions between Dealer Deliveries and MCB director Mr L. E. Micaleff.
Twinand single-deck versions have been produced and the former can carry either four coach chassis or seven cars, or a mixture of each.
Mounted on Rubery Owen-Rockwell axles with York running gear, the trailer has a Westinghouse three-line full air brake system. Its main members are I8in. by 6in. rolled steel I-section and the cross-members are of 4m. by 2in. channel section.
Unladen weight of the transporter trailer is 13.25 tons and it is plated to 26 tons gross. Overall length is 58 Sin. including a rear overhang of 156in. and a kingpin to front of lower deck dimension of 58in. The complete unit, including tractor, had an overall length of 15 metres; the minimum between-deck height is 5f1.
Complementary to the twin-deck transporter there is a single-deck model named the "Sloper". Built primarily to carry 15cwt 35cwt vans, the trailer is also capable of carrying different types of vehicle, including two coach chassis of 33ft length.
Unladen weight of this trailer is only 4.5 tons and it is plated to 17.25 tons gross. Main members are 8in. by Sin. I-section and the cross-members are 4in. by 2in. channel section.
An overall track length of 640in. is utilized within the overall trailer length of 585in., with a kingpin to front of trailer dimension 55+in. and rear overhang of 108in.
RO-R axles are again fitted, with the York running gear having single leaf semi-elliptic springs.