Interfreight '71
23rd July 1971
Page 17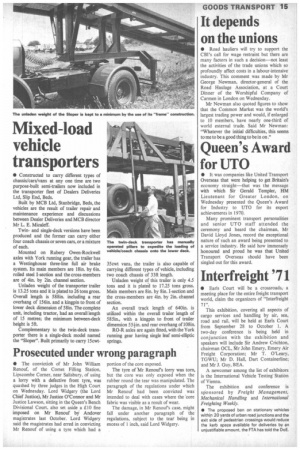 Page 17, 23rd July 1971 —
Interfreight '71
Close
• Earls Court will be a crossroads, a meeting place for the entire freight transport world, claim the organizers of "Interfreight 71". • This exhibition, covering all aspects of cargo services and handling by air, sea, road and rail, will be held at Earls Court from September 28 to October 1. A two-day conference is being held in conjunction with the exhibition and speakers will include Sir Andrew Crichton, chairman OCL, l4r JOhn Emery, Emery Air Freight Corporation; Mr T. O'Leary, TGWU; Mr D. Hall, Dart Containerline; and Mr J. Guy, BEA.
A newcomer among the list of exhibitors is the International Vehicle Testing Station of Vienna.
The exhibition and conference is sponsored by Freight Management, Mechanical Handling and International Freighting Weekly.
• The proposed ban on stationary vehicles withi,n 20 yards of urban road junctions and the exit side of pedestrian crossings would reduce the kerb space available for deliveries by an unjustifiable amount, the FTA has told the DoE.