NCL will break even next year, says Mr Kinsey
23rd July 1971
Page 16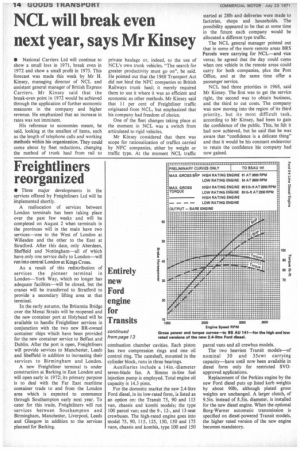 Page 16, 23rd July 1971 —
NCL will break even next year, says Mr Kinsey
Close
• National Carriers Ltd will continue to show a small loss in 1971, break even in 1972 and show a small profit in 1973. This forecast was made this week by Mr H. Kinsey, managing director of NCL and assistant general manager of British Express Carriers. Mr Kinsey said that the break-even point in 1972 would be achieved through the application of further economic measures in the company and higher revenue. He emphasized that an increase in rates was not imminent.
His reference to economies meant, he said, looking at the smallest of items, such as the length of telephone calls and working methods within his organization. They could come about by fleet reductions, changing the method of trunk haul from rail to private haulage or, indeed, to the use of NCL's own trunk vehicles, "The search for greater productivity must go on", he said. He pointed out that the 1968 Transport Act did not bind the NFC companies to British Railways trunk haul; it merely required them to use it where it was as efficient and economic as other methods. Mr Kinsey said that 11 per cent of Freightliner traffic originated from NCL, but emphasized that his company had freedom of choice.
One of the fleet changes taking place at the moment in NCL was a switch from articulated to rigid vehicles.
Mr Kinsey considered that there was scope for rationalization of traffics carried by NFC companies, either by weight or traffic type. At the moment NCL traffic started at 281b and deliveries were made to factories, shops and households. The possibility appeared to be that at some time in the future each company would be allocated a different type traffic.
The NCL general manager pointed out that in some of the more remote areas BRS Parcels were carrying for NCL—and vice versa; he agreed that the day could come when one vehicle in the remote areas could carry for both companies, plus the Post Office, and at the same time offer a passenger service.
NCL had three priorities in 1968, said Mr Kinsey. The first was to get the service right, the second was to obtain business, and the third to cut costs. The company was now moving into the region of its third priority, but its most difficult task, according to Mr Kinsey, had been to gain the confidence of the public. This, he felt it had now achieved, but he said that he was aware that "confidence is a delicate thing" and that it would be his constant endeavour to retain the 'confidence his company had now gained.